NEEDTOBREATHE Hits the Showers for Acoustic Set of 'Darling'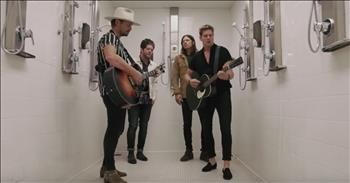 Singing their hit song "Darling" from recent album "Forever On Your Side", the band NEEDTOBREATHE stuns with their unique recording location - a shower stall! Their soulful acoustic sound resonated so beautifully within the hollow, tiled walls! 'Darling' has the feel of an older, country gospel song. The lyrics tell an intimate side of life on the road and the dueling guitars as the only instrument give a great opportunity for NEEDTOBREATHE harmonies to truly soar!

"Darling, won't you talk with me
For a little while?
We ain't got nowhere to be
Oh and I've come so many miles
Darlin', won't you talk with me
For a little while?
Or at least until the baby cries
Or we both fall asleep"
NEEDTOBREATHE, South Carolina band is a unique mix of gospel, soul, and rock music. Their music serves as an encouragement to others while sharing lyrics and meaning that come from personal experience. They are no stranger to heartache and even family feuds, inspiring such songs as "Brother" from previous album "Rivers in the Wasteland'. Lead vocalist Bear Rinehart shared the heart behind the song 'Darling':
"'Darling' is a song I wrote about what it's like being away from my wife. It's one of those songs where after you write it you think, 'I don't know if this is for the band or if this is just for me.' I played it for the guys and they were like, 'Well, that's kind of how I feel, too.'"
As society continues to grow more mobile and families are spread out, 'Darling' has the opportunity to really connect with listeners. NEEDTOBREATHE often reaches it's fans with songs that uplift and give a glimmer of hope for the future.
"...It's more meaningful than some pop music that you come by. People are living this and I think that's something we carry into our music now." Bear shared with Southern Living, "We think of ourselves as a rock and roll band, but I would hope that there is some higher meaning in the things that we do and that people get inspired by it."
needtobreathe

3572 views

2018-10-22T15:49:22

source: NEEDTOBREATHE Singing their hit song "Darling" from recent album "Forever On Your Side", the band NEEDTOBREATHE stuns with their unique recording location - a shower stall! Their soulful acoustic sound resonated so beautifully within the hollow, tiled walls! 'Darling' has the feel of an older, country gospel song. The lyrics tell an intimate side of life on the road and the dueling guitars as the only instrument give a great opportunity for NEEDTOBREATHE harmonies to truly soar!

"Darling, won't you talk with me
For a little while?
We ain't got nowhere to be
Oh and I've come so many miles
Darlin', won't you talk with me
For a little while?
Or at least until the baby cries
Or we both fall asleep"

NEEDTOBREATHE, South Carolina band is a unique mix of gospel, soul, and rock music. Their music serves as an encouragement to others while sharing lyrics and meaning that come from personal experience. They are no stranger to heartache and even family feuds, inspiring such songs as "Brother" from previous album "Rivers in the Wasteland'. Lead vocalist Bear Rinehart shared the heart behind the song 'Darling':

"'Darling' is a song I wrote about what it's like being away from my wife. It's one of those songs where after you write it you think, 'I don't know if this is for the band or if this is just for me.' I played it for the guys and they were like, 'Well, that's kind of how I feel, too.'"

As society continues to grow more mobile and families are spread out, 'Darling' has the opportunity to really connect with listeners. NEEDTOBREATHE often reaches it's fans with songs that uplift and give a glimmer of hope for the future.

"...It's more meaningful than some pop music that you come by. People are living this and I think that's something we carry into our music now." Bear shared with Southern Living, "We think of ourselves as a rock and roll band, but I would hope that there is some higher meaning in the things that we do and that people get inspired by it."
Today's Devotional
A Prayer to Overcome Evil - Your Daily Prayer - February 20
Top Artists