'The Great Adventure' Steven Curtis Chapman Live Performance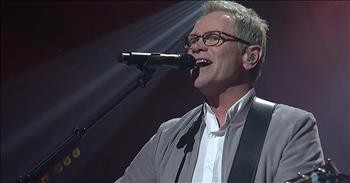 Beloved Christian artist Steven Curtis Chapman performs his hit single 'The Great Adventure' at the 2019 Dove Awards. This worship song reminds us all that there is no greater life than one with God by our side.

"Saddle up your horses
We've got a trail to blaze
Oh oh oh
Through the wild blue yonder of God's Amazing grace
Let's follow our leader into the Glorious unknown
This is the life like no other whoa whoa
This is the great adventure"
Steven Curtis Chapman is a Dove and Grammy award-winning musician. For decades, he's been paving the way in Christian music and still remains a staple in the genre today. Over the years, Steven has blessed us with songs such as 'Cinderella' and 'The Glorious Unfolding.'
Today, he's at the 2019 Gospel Music Association Dove Awards for a very special performance of his hit song 'The Great Adventure.' This song was originally released in 1992 and reached number one on the Christian charts. Decades later, it remains a favorite for the inspiring message of love and truth.
"This is the greatest journey
That the human heart will ever see
The love of God will take us far
Beyond our wildest dreams"
When we put our trust in the Lord, we are embarking on the greatest journey we can ever imagine. Let God take the lead and we will prosper wherever we go!
Proverbs 3:5-6 "5 Trust in the LORD with all your heart and lean not on your own understanding;
6 in all your ways submit to him, and he will make your paths straight."
steven-curtis-chapman

1478 views

2019-11-12T11:53:39

source: Steven Curtis Chapman Beloved Christian artist Steven Curtis Chapman performs his hit single 'The Great Adventure' at the 2019 Dove Awards. This worship song reminds us all that there is no greater life than one with God by our side.

"Saddle up your horses
We've got a trail to blaze
Oh oh oh
Through the wild blue yonder of God's Amazing grace
Let's follow our leader into the Glorious unknown
This is the life like no other whoa whoa
This is the great adventure"

Steven Curtis Chapman is a Dove and Grammy award-winning musician. For decades, he's been paving the way in Christian music and still remains a staple in the genre today. Over the years, Steven has blessed us with songs such as 'Cinderella' and 'The Glorious Unfolding.'

Today, he's at the 2019 Gospel Music Association Dove Awards for a very special performance of his hit song 'The Great Adventure.' This song was originally released in 1992 and reached number one on the Christian charts. Decades later, it remains a favorite for the inspiring message of love and truth.

"This is the greatest journey
That the human heart will ever see
The love of God will take us far
Beyond our wildest dreams"

When we put our trust in the Lord, we are embarking on the greatest journey we can ever imagine. Let God take the lead and we will prosper wherever we go!

Proverbs 3:5-6 "5 Trust in the LORD with all your heart and lean not on your own understanding;
6 in all your ways submit to him, and he will make your paths straight."

Suggested For You
---
Related Videos
---
Today's Devotional
A Prayer for a Strong Marriage - Your Daily Prayer - August 9
Top Artists