Why 'Mary Did You Know' Is The Perfect Song For Easter This Year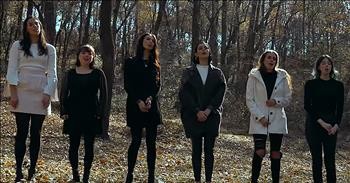 This Easter, the talented sisters of Cimorelli give the classic song 'Mary Did You Know' a whole new meaning.

After it's release in 1991, this modern day hymn became a worldwide sensation. It took Christian artist Mark Lowry over 7 years to complete this powerful tune. Now, 'Mary Did You Know' is one of the most popular Christmas songs of all time. Even though this is normally a tune performed in December, this year, it feels like the perfect Easter song.
As the Coronavirus spreads across the globe, it's a troubling time for the world. With so many questions, we can find comfort in our faith and the ever-constant nature of God. He is the answer to every question and He is truly the great I am.
This Easter, 'Mary Did You Know' reminds us all to trust in God, just like Mary.
'Mary did you know that your baby boy will give sight to a blind man?
Mary did you know that your baby boy will calm a storm with his hand?
Did you know that your baby boy has walked where angels trod?
When you kiss your little baby, you kiss the face of God'
Today, Cimorelli is coming together to put their own unique spin on this timeless holiday tune. These six sisters range in age from eighteen to twenty-eight. Together, they've been performing for over a decade. The sisters started with a YouTube channel where they would sing cover songs.
Then, the popularity exploded and the women were signed to their very own record deal. Just listen as their beautiful voices blend together in perfect harmony with this a cappella performance of 'Mary Did You Know.'
'The blind will see, the deaf will hear, the dead will live again
The lame will leap, the dumb will speak, the praises of the lamb'
We are living in uncertain times where we don't know how our story will play out. Mary only knew the beginning of her story, and trusted God with the rest. We should too.
John 1:14 "The Word became flesh and made his dwelling among us. We have seen his glory, the glory of the one and only Son, who came from the Father, full of grace and truth."
GodTube-Music

457014 views

2019-12-03T13:24:00

source: Cimorelli This Easter, the talented sisters of Cimorelli give the classic song 'Mary Did You Know' a whole new meaning.

After it's release in 1991, this modern day hymn became a worldwide sensation. It took Christian artist Mark Lowry over 7 years to complete this powerful tune. Now, 'Mary Did You Know' is one of the most popular Christmas songs of all time. Even though this is normally a tune performed in December, this year, it feels like the perfect Easter song.

As the Coronavirus spreads across the globe, it's a troubling time for the world. With so many questions, we can find comfort in our faith and the ever-constant nature of God. He is the answer to every question and He is truly the great I am.

This Easter, 'Mary Did You Know' reminds us all to trust in God, just like Mary.

'Mary did you know that your baby boy will give sight to a blind man?
Mary did you know that your baby boy will calm a storm with his hand?
Did you know that your baby boy has walked where angels trod?
When you kiss your little baby, you kiss the face of God'

Today, Cimorelli is coming together to put their own unique spin on this timeless holiday tune. These six sisters range in age from eighteen to twenty-eight. Together, they've been performing for over a decade. The sisters started with a YouTube channel where they would sing cover songs.

Then, the popularity exploded and the women were signed to their very own record deal. Just listen as their beautiful voices blend together in perfect harmony with this a cappella performance of 'Mary Did You Know.'

'The blind will see, the deaf will hear, the dead will live again
The lame will leap, the dumb will speak, the praises of the lamb'

We are living in uncertain times where we don't know how our story will play out. Mary only knew the beginning of her story, and trusted God with the rest. We should too.

John 1:14 "The Word became flesh and made his dwelling among us. We have seen his glory, the glory of the one and only Son, who came from the Father, full of grace and truth."

Today's Devotional
A Prayer for Direction - Your Daily Prayer - August 10
Top Artists