American Idol Contestant Prays With Judges After Emotional Audition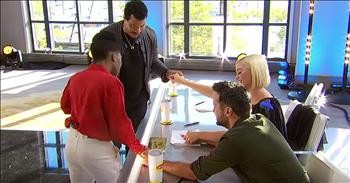 An American Idol contestant prays with the judges after an emotional audition leaves everyone in tears. 20-year-old Samantha prefers to go by her stage name of Just Sam.

This aspiring singer started performing on the subway when she was in middle school. This unique stage provides her with enough finances to pay her bills and rent, but life is not always easy.
When her parents were unable to take care of Sam and her sister, their grandmother stepped in and adopted the siblings. She made sure that the girls had clothes, food and a roof over their head.
Grandmother Elizabeth said, "God is good. But, at times, it's really hard.' Today, Sam is hoping to live out her dreams and create a better life for her family by auditioning for American Idol. As she stood in front of the judges, Sam was visibly nervous.
In fact, she was barely able to get through the first verse of 'You Say' by Lauren Daigle before she had to take a pause. After letting the tears flow, all of the judges gathered around the young singer for an encouraging embrace.
Then, Sam went into a powerful rendition of 'Rise Up' by Andra Day. All of the judges raved about Sam's touching performance.
Luke Bryan said, "A lot of people come in here and they haven't lived the struggles you have. You have those qualities in your voice to tell stories and you can sing really beautifully." But it was Lionel Ritchie who reduced Sam to tears when he told her that she was in a safe space.
He went on to say, "I'm so grateful that God put you in front of us." That's when Sam asked if she could pray with all three of the judges. They enthusiastically agreed and shared in a sweet prayer of thanks and reflection.
This is such a special moment for so many reasons and I'm so glad that it is being seen by millions of people all over the world. As Sam says at the end, 'Thank you, Jesus!"
godtube-inspiration

20399 views

2020-02-14T12:52:37

source: American Idol An American Idol contestant prays with the judges after an emotional audition leaves everyone in tears. 20-year-old Samantha prefers to go by her stage name of Just Sam.

This aspiring singer started performing on the subway when she was in middle school. This unique stage provides her with enough finances to pay her bills and rent, but life is not always easy.

When her parents were unable to take care of Sam and her sister, their grandmother stepped in and adopted the siblings. She made sure that the girls had clothes, food and a roof over their head.

Grandmother Elizabeth said, "God is good. But, at times, it's really hard.' Today, Sam is hoping to live out her dreams and create a better life for her family by auditioning for American Idol. As she stood in front of the judges, Sam was visibly nervous.

In fact, she was barely able to get through the first verse of 'You Say' by Lauren Daigle before she had to take a pause. After letting the tears flow, all of the judges gathered around the young singer for an encouraging embrace.

Then, Sam went into a powerful rendition of 'Rise Up' by Andra Day. All of the judges raved about Sam's touching performance.

Luke Bryan said, "A lot of people come in here and they haven't lived the struggles you have. You have those qualities in your voice to tell stories and you can sing really beautifully." But it was Lionel Ritchie who reduced Sam to tears when he told her that she was in a safe space.

He went on to say, "I'm so grateful that God put you in front of us." That's when Sam asked if she could pray with all three of the judges. They enthusiastically agreed and shared in a sweet prayer of thanks and reflection.

This is such a special moment for so many reasons and I'm so glad that it is being seen by millions of people all over the world. As Sam says at the end, 'Thank you, Jesus!"
Today's Devotional
A Prayer for a Strong Marriage - Your Daily Prayer - August 9
Top Artists