'Amazing Grace' George Jones Live Performance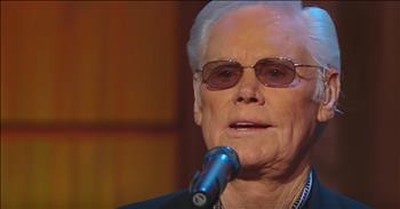 Country legend George Jones leads us in worship with a beautiful rendition of 'Amazing Grace.'

This classic hymn was originally written by John Newton. John wrote the hymn as a way of giving thanks to the Lord after He granted him new life.
As a sailor, John was known for his crude language and actions. But one day, John found himself caught in the middle of a terrible storm. After spending hours at the helm of the ship, John's thoughts began to turn to God.
After surviving the weather, John started his life as a Christian and dedicated himself to serving our Father.
"Amazing Grace, How sweet the sound
That saved a wretch like me
I once was lost, but now am found
T'was blind but now I see
T'was Grace that taught my heart to fear
And Grace, my fears relieved
How precious did that grace appear
The hour I first believed"
There's something so beautiful about a classic hymn and a country vocalist. And it doesn't get much better than George Jones singing 'Amazing Grace.' This is the perfect song to remind us all that God is in control and He will be with us each step of the way.
Who else is saying amen right now?
2 Corinthians 12:9 "But he said to me, "My grace is sufficient for you, for my power is made perfect in weakness." Therefore I will boast all the more gladly of my weaknesses, so that the power of Christ may rest upon me."
Buy Now

Embed

george-jones

110403 views

2012-06-21T17:34:00

Country legend George Jones leads us in worship with a beautiful rendition of 'Amazing Grace.'

This classic hymn was originally written by John Newton. John wrote the hymn as a way of giving thanks to the Lord after He granted him new life.

As a sailor, John was known for his crude language and actions. But one day, John found himself caught in the middle of a terrible storm. After spending hours at the helm of the ship, John's thoughts began to turn to God.

After surviving the weather, John started his life as a Christian and dedicated himself to serving our Father.

"Amazing Grace, How sweet the sound
That saved a wretch like me
I once was lost, but now am found
T'was blind but now I see
T'was Grace that taught my heart to fear
And Grace, my fears relieved
How precious did that grace appear
The hour I first believed"

There's something so beautiful about a classic hymn and a country vocalist. And it doesn't get much better than George Jones singing 'Amazing Grace.' This is the perfect song to remind us all that God is in control and He will be with us each step of the way.

Who else is saying amen right now?

2 Corinthians 12:9 "But he said to me, "My grace is sufficient for you, for my power is made perfect in weakness." Therefore I will boast all the more gladly of my weaknesses, so that the power of Christ may rest upon me."

Today's Devotional
A Prayer to Remember That Joy Is a Way of Life - Your Daily Prayer - May 21
The Bible commands us, "be joyful aways!"
Top Artists
Top Music Videos