Voctave A Cappella Group Sings 'Where Are You, Christmas?'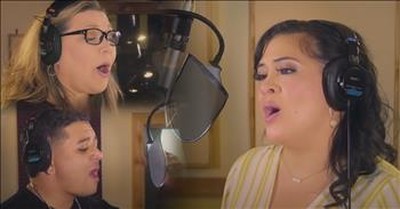 Feel the spirit of Christmas as Voctave performs an a cappella rendition of 'Where Are You, Christmas?'

This modern day Christmas tune was originally written for the 2000 movie 'How The Grinch Stole Christmas.' The song was first performed by Taylor Momsen, who played Cindy Lou Who in the film. Later, it was recorded by country artist Faith Hill.
"Where are you Christmas, why can't I find you,
Why have you gone away
Where is the laughter you used to bring me,
Why can't I hear music play"
Voctave is an incredible a cappella group from Central Florida. Comprised of eleven members, this ensemble performs every genre of music from gospel to pop.
Their website
boasts of some of their accolades saying, "The group has performed with Grammy, Dove and American Music Award recipients including Sandi Patty, Kirstin Maldonado, Mark Lowry, David Phelps & Jody McBrayer."
Today, they're helping us get in the Christmas spirit with this beautiful rendition of 'Where Are You, Christmas?'
Just listen to this beautiful arrangement performed completely a cappella.
"If there is love in your heart and your mind
You will feel like Christmas all the time
I feel you Christmas, I know I found you
You never fade away"
As we walk through this holiday season, let us remember the true meaning of Christmas and that is the birth of our Saviour, Jesus Christ.
Isaiah 9:6 "For to us a child is born, to us a son is given; and the government shall be upon his shoulder, and his name shall be called Wonderful Counselor, Mighty God, Everlasting Father, Prince of Peace."
godtube-christmas

2596 views

2021-11-18T15:31:05

source: Voctave Feel the spirit of Christmas as Voctave performs an a cappella rendition of 'Where Are You, Christmas?'

This modern day Christmas tune was originally written for the 2000 movie 'How The Grinch Stole Christmas.' The song was first performed by Taylor Momsen, who played Cindy Lou Who in the film. Later, it was recorded by country artist Faith Hill.

"Where are you Christmas, why can't I find you,
Why have you gone away
Where is the laughter you used to bring me,
Why can't I hear music play"

Voctave is an incredible a cappella group from Central Florida. Comprised of eleven members, this ensemble performs every genre of music from gospel to pop.

Their website boasts of some of their accolades saying, "The group has performed with Grammy, Dove and American Music Award recipients including Sandi Patty, Kirstin Maldonado, Mark Lowry, David Phelps & Jody McBrayer."

Today, they're helping us get in the Christmas spirit with this beautiful rendition of 'Where Are You, Christmas?'

Just listen to this beautiful arrangement performed completely a cappella.

"If there is love in your heart and your mind
You will feel like Christmas all the time
I feel you Christmas, I know I found you
You never fade away"

As we walk through this holiday season, let us remember the true meaning of Christmas and that is the birth of our Saviour, Jesus Christ.

Isaiah 9:6 "For to us a child is born, to us a son is given; and the government shall be upon his shoulder, and his name shall be called Wonderful Counselor, Mighty God, Everlasting Father, Prince of Peace."

Top Artists
Top Music Videos