'Together' (We'll Get Through This) Live From Steven Curtis Chapman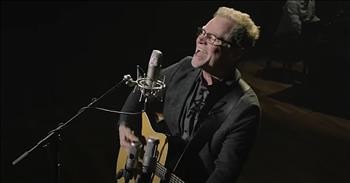 Beloved Christian artist Steven Curtis Chapman reminds us all to stand together with his inspiring single, 'Together.' These lyrics are truly the perfect way to put our emotions into words.

"Together, we'll get through this
Together, no matter what it is
There's no valley too deep no river too wide
No mountain too steep we can't climb
Together, we got all we need"
Steven Curtis Chapman is a Dove and Grammy award-winning musician. For decades, he's been paving the way in Christian music and still remains a staple in the genre today. Over the years, Steven has blessed us with songs such as 'Cinderella' and 'The Glorious Unfolding.'
Today, he is reminding us all that there is strength when we work as a team with 'Together.' This beautiful performance was performed live in the empty theater of the Ryman Auditorium. As you listen to Steven sing alone on stage, you can truly feel the weight of every single word.
"We're gonna get to the other side
You and I, you and I
We'll look back from the other side
knowing we made it together"
Even in these troubling times, we are all in this together. As a team, we can defeat any obstacle, especially with the Lord by our side.
Hebrews 10:24-25 "And let us consider how to stir up one another to love and good works, not neglecting to meet together, as is the habit of some, but encouraging one another, and all the more as you see the Day drawing near."
steven-curtis-chapman

830 views

2020-06-01T15:34:21

source: Steven Curtis Chapman Beloved Christian artist Steven Curtis Chapman reminds us all to stand together with his inspiring single, 'Together.' These lyrics are truly the perfect way to put our emotions into words.

"Together, we'll get through this
Together, no matter what it is
There's no valley too deep no river too wide
No mountain too steep we can't climb
Together, we got all we need"

Steven Curtis Chapman is a Dove and Grammy award-winning musician. For decades, he's been paving the way in Christian music and still remains a staple in the genre today. Over the years, Steven has blessed us with songs such as 'Cinderella' and 'The Glorious Unfolding.'

Today, he is reminding us all that there is strength when we work as a team with 'Together.' This beautiful performance was performed live in the empty theater of the Ryman Auditorium. As you listen to Steven sing alone on stage, you can truly feel the weight of every single word.

"We're gonna get to the other side
You and I, you and I
We'll look back from the other side
knowing we made it together"

Even in these troubling times, we are all in this together. As a team, we can defeat any obstacle, especially with the Lord by our side.

Hebrews 10:24-25 "And let us consider how to stir up one another to love and good works, not neglecting to meet together, as is the habit of some, but encouraging one another, and all the more as you see the Day drawing near."

Today's Devotional
A Prayer for Communication During Conflict - Your Daily Prayer - August 13
Top Artists