'Light The Way' Matt Maher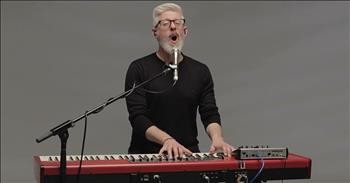 Contemporary Christian artist Matt Maher leads us all in worship with 'Light the Way.'

As we listen to these words, we are reminded that God is besides us each step of the way and He will be the lamp that lights our feet.
"In The shadow of the valley
Your word a lamp when I can't see
May I not forget the promise leading me
You're leading me"
Matt Maher has been a staple in the Christian music word for decades. As a Grammy-nominated artist, he's written and recorded multiple number one worship songs and continues to use his gift of performing to share God's message.
Today, he is sharing the gospel with a beautiful rendition of 'Light The Way.' Just listen as he belts out these words of praise to our King.
"You light the way, You light the way
With a fire by night, and a cloud by day
You light the way, You light the way
Where You go I'll go, where You stay I'll stay"
There is no doubt that our God is full of love and grace. But He is also our strength and comfort when times get dark. Let us put our hope in Him and He will always guide us on the path to righteousness.
Who else has their hands in the air in praise right now?
John 8:12 "Again Jesus spoke to them, saying, "I am the light of the world. Whoever follows me will not walk in darkness, but will have the light of life.""
matt-maher

5491 views

2020-03-17T16:22:57

source: Matt Maher Contemporary Christian artist Matt Maher leads us all in worship with 'Light the Way.'

As we listen to these words, we are reminded that God is besides us each step of the way and He will be the lamp that lights our feet.

"In The shadow of the valley
Your word a lamp when I can't see
May I not forget the promise leading me
You're leading me"

Matt Maher has been a staple in the Christian music word for decades. As a Grammy-nominated artist, he's written and recorded multiple number one worship songs and continues to use his gift of performing to share God's message.

Today, he is sharing the gospel with a beautiful rendition of 'Light The Way.' Just listen as he belts out these words of praise to our King.

"You light the way, You light the way
With a fire by night, and a cloud by day
You light the way, You light the way
Where You go I'll go, where You stay I'll stay"

There is no doubt that our God is full of love and grace. But He is also our strength and comfort when times get dark. Let us put our hope in Him and He will always guide us on the path to righteousness.

Who else has their hands in the air in praise right now?

John 8:12 "Again Jesus spoke to them, saying, "I am the light of the world. Whoever follows me will not walk in darkness, but will have the light of life.""

Today's Devotional
A Prayer to Be Sober-Minded - Your Daily Prayer - July 7
Top Artists