'The Father's House' Live Performance From Cory Asbury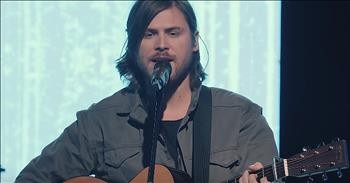 Award-winning contemporary Christian artist Cory Asbury returns to the music scene with a live rendition of 'The Father's House.' These incredible words remind us of the love and grace that comes from our Father in Heaven.

"Ooh, lay your burdens down
Ooh, here in the Father's house
Check your shame at the door
'Cause it ain't welcome anymore
Ooh, you're in the Father's house"
In 2018, Cory made a splash in the Christian music world with his song 'Reckless Love.' The song won multiple Dove awards and was even named by Billboard as the biggest Christian song of 2018.
As Cory's star was rising, he was receiving opportunities from all over. But these commitments came at the cost of leaving his family for long periods of time.
As much as Cory had prayed to make a mark in the music scene, he felt that God was calling him to take a step back. So at the height of his rise, he made the unconventional decided to take a year off from music and social media in 2019.
He spent that time reconnecting with his family and creating a deeper relationship with God. Out of that time, came new inspirations and many new songs. One of those songs was 'The Father's House.'
"Miracles take place
The cynical find faith
Love is breaking through
When the Father's in the room"
These beautiful words of worship are the perfect way to give praise to His Name. Who else is saying amen right now?
1 Corinthians 8:6 "Yet for us there is one God, the Father, from whom are all things and for whom we exist, and one Lord, Jesus Christ, through whom are all things and through whom we exist."
bethel-music

5853 views

2020-03-16T10:42:12

source: Bethel Music Award-winning contemporary Christian artist Cory Asbury returns to the music scene with a live rendition of 'The Father's House.' These incredible words remind us of the love and grace that comes from our Father in Heaven.

"Ooh, lay your burdens down
Ooh, here in the Father's house
Check your shame at the door
'Cause it ain't welcome anymore
Ooh, you're in the Father's house"

In 2018, Cory made a splash in the Christian music world with his song 'Reckless Love.' The song won multiple Dove awards and was even named by Billboard as the biggest Christian song of 2018.

As Cory's star was rising, he was receiving opportunities from all over. But these commitments came at the cost of leaving his family for long periods of time.

As much as Cory had prayed to make a mark in the music scene, he felt that God was calling him to take a step back. So at the height of his rise, he made the unconventional decided to take a year off from music and social media in 2019.

He spent that time reconnecting with his family and creating a deeper relationship with God. Out of that time, came new inspirations and many new songs. One of those songs was 'The Father's House.'

"Miracles take place
The cynical find faith
Love is breaking through
When the Father's in the room"

These beautiful words of worship are the perfect way to give praise to His Name. Who else is saying amen right now?

1 Corinthians 8:6 "Yet for us there is one God, the Father, from whom are all things and for whom we exist, and one Lord, Jesus Christ, through whom are all things and through whom we exist."

Today's Devotional
A Prayer for a Strong Marriage - Your Daily Prayer - August 9
Top Artists