'Great Jehovah' Travis Greene Official Video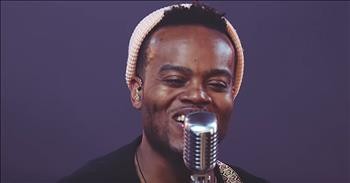 Christian artist Travis Greene releases the inspiring music video for 'Great Jehovah.'

This powerful song is the third single off of Travis' latest album, 'Broken Record.' These incredible lyrics truly remind us that there is no one like our God. He is truly the source of our light and our strength and we continue to cry out to Him to lead the way.
"Without performance
You called us Your own
Couldn't afford it
So with Your blood You bought our freedom
Can't explain Your love"
Travis Greene is a talented singer, songwriter and pastor. Over the years, he's given us beautiful worship songs such as 'You Waited' and 'Made A Way.'
Today, sharing another song of praise with 'Great Jehovah. On Instagram, Travis said, "Today we lift his name higher and higher, we call out his name and thank for the mercy and grace our God has given and will continue to supply. He loves us all and he is without failure. Truly He is Great Jehovah."
Just listen as Travis belts out these words of love straight to the Heavens.
"Ruler of Everything
Worthy of all that we could bring
You are Great Jehovah
All power is yours"
Join your voices together as we give praise to His Name with the lyrics of 'Great Jehovah.' Can I get an amen?
Isaiah 12:2 "Behold, God is my salvation; I will trust, and will not be afraid; for the LORD GOD is my strength and my song, and he has become my salvation."
travis-greene

5238 views

2019-09-26T11:59:56

source: Travis Greene Christian artist Travis Greene releases the inspiring music video for 'Great Jehovah.'

This powerful song is the third single off of Travis' latest album, 'Broken Record.' These incredible lyrics truly remind us that there is no one like our God. He is truly the source of our light and our strength and we continue to cry out to Him to lead the way.

"Without performance
You called us Your own
Couldn't afford it
So with Your blood You bought our freedom
Can't explain Your love"

Travis Greene is a talented singer, songwriter and pastor. Over the years, he's given us beautiful worship songs such as 'You Waited' and 'Made A Way.'

Today, sharing another song of praise with 'Great Jehovah. On Instagram, Travis said, "Today we lift his name higher and higher, we call out his name and thank for the mercy and grace our God has given and will continue to supply. He loves us all and he is without failure. Truly He is Great Jehovah."

Just listen as Travis belts out these words of love straight to the Heavens.

"Ruler of Everything
Worthy of all that we could bring
You are Great Jehovah
All power is yours"

Join your voices together as we give praise to His Name with the lyrics of 'Great Jehovah.' Can I get an amen?

Isaiah 12:2 "Behold, God is my salvation; I will trust, and will not be afraid; for the LORD GOD is my strength and my song, and he has become my salvation."

Suggested For You
---
Related Videos
---
Today's Devotional
A Prayer to Wait on God without Losing Faith - Your Daily Prayer - June 6
Top Artists