Baby With Hearing Aid Hears Singing For The First Time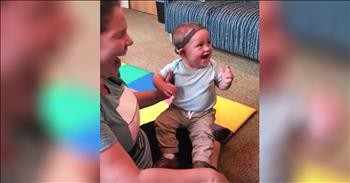 This precious baby with a hearing aid is hearing his family sing for the very first time and it's an absolutely heartwarming moment captured on camera.

This little boy has never heard the voices of his mother or other family members. But today, he is receiving a hearing aid and is getting to experience the joy of music.
Just watch his face when his mom starts to sing the children's song 'Baby Shark.' The biggest smile spreads across his face. Then, when someone starts to clap along to the song, the baby begins an infectious laugh.
I know this moment was a long time coming for the entire family and it's obvious that everyone is full of emotion. This must have been the sweetest sound this family has ever heard.
It is so sweet to watch this special moment unfold right in front of our eyes. I am so glad that this little boy is able to experience some of life's amazing sounds, such as the voice of his mother.
Now this memory is recorded and can be cherished for years to come. What a blessing to see the joy and happiness captured in this moment.
Psalm 127:3-5 "3 Children are a heritage from the LORD, offspring a reward from him. 4Like arrows in the hands of a warrior are children born in one's youth. 5Blessed is the man whose quiver is full of them. They will not be put to shame when they contend with their opponents in court."
godtube-inspiration

12034 views

2019-05-30T11:52:00

source: RM Videos This precious baby with a hearing aid is hearing his family sing for the very first time and it's an absolutely heartwarming moment captured on camera.

This little boy has never heard the voices of his mother or other family members. But today, he is receiving a hearing aid and is getting to experience the joy of music.

Just watch his face when his mom starts to sing the children's song 'Baby Shark.' The biggest smile spreads across his face. Then, when someone starts to clap along to the song, the baby begins an infectious laugh.

I know this moment was a long time coming for the entire family and it's obvious that everyone is full of emotion. This must have been the sweetest sound this family has ever heard.

It is so sweet to watch this special moment unfold right in front of our eyes. I am so glad that this little boy is able to experience some of life's amazing sounds, such as the voice of his mother.

Now this memory is recorded and can be cherished for years to come. What a blessing to see the joy and happiness captured in this moment.

Psalm 127:3-5 "3 Children are a heritage from the LORD, offspring a reward from him. 4Like arrows in the hands of a warrior are children born in one's youth. 5Blessed is the man whose quiver is full of them. They will not be put to shame when they contend with their opponents in court."
Today's Devotional
A Prayer for Intentional Marriage - Your Daily Prayer - October 14
Top Artists