'Nobody' Casting Crowns Featuring Matthew West Dove Awards Performance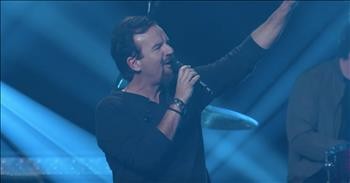 Christian music stars Casting Crown and Matthew West perform a live rendition of 'Nobody' at the 2019 Dove Awards.

Every year, the Gospel Music Association honors the industry's top artists and songs. This incredible performance brings together two beloved Christian act for this soul-stirring number.
"'Cause I'm just a nobody
Trying to tell everybody
All about Somebody who saved my soul
Ever since You rescued me
You gave my heart a song to sing
I'm living for the world to see
Nobody but Jesus
I'm living for the world to see
Nobody but Jesus"
Casting Crowns formed in 1999 by lead vocalist Mark Hall. He served as a youth pastor for First Baptist Church in Daytona Beach, Florida. The band started as part of the youth group and quickly took on a nationwide audience. Matthew West is a fellow Dove award-winning musician who has given us hits such as 'Forgiveness' and 'Hello (My Name Is).'
Today, they are giving praise to God's Name with this live performance of 'Nobody.' These words truly remind us that there is nobody like our Lord in Heaven.
He gives us strength when we feel weak and provides comfort when times are dark. Let His light shine through us as we sing these beautiful words out loud for the whole world to hear.
Isaiah 41:10 "Fear not, for I am with you; be not dismayed, for I am your God; I will strengthen you, I will help you, I will uphold you with my righteous right hand."
casting-crowns

22037 views

2019-11-13T15:24:00

source: Casting Crowns Christian music stars Casting Crown and Matthew West perform a live rendition of 'Nobody' at the 2019 Dove Awards.

Every year, the Gospel Music Association honors the industry's top artists and songs. This incredible performance brings together two beloved Christian act for this soul-stirring number.

"'Cause I'm just a nobody
Trying to tell everybody
All about Somebody who saved my soul
Ever since You rescued me
You gave my heart a song to sing
I'm living for the world to see
Nobody but Jesus
I'm living for the world to see
Nobody but Jesus"

Casting Crowns formed in 1999 by lead vocalist Mark Hall. He served as a youth pastor for First Baptist Church in Daytona Beach, Florida. The band started as part of the youth group and quickly took on a nationwide audience. Matthew West is a fellow Dove award-winning musician who has given us hits such as 'Forgiveness' and 'Hello (My Name Is).'

Today, they are giving praise to God's Name with this live performance of 'Nobody.' These words truly remind us that there is nobody like our Lord in Heaven.

He gives us strength when we feel weak and provides comfort when times are dark. Let His light shine through us as we sing these beautiful words out loud for the whole world to hear.

Isaiah 41:10 "Fear not, for I am with you; be not dismayed, for I am your God; I will strengthen you, I will help you, I will uphold you with my righteous right hand."

Today's Devotional
A Prayer for a Strong Marriage - Your Daily Prayer - August 9
Top Artists