'Power' We Are Messengers Official Video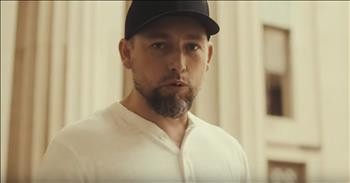 Christian band We Are Messengers releases the official music video for their latest song, 'Power.'

This powerful song was written by lead singer Darren Mulligan and fellow band mate Kyle Williams. You may know Kyle from his recent win on the NBC show, 'Songland.'
Today, he's using his gift to write words that give glory to the Lord.
"Just keep moving on
Just keep pushing ahead
Yeah, the new has come
All the old is dead
Just keep moving on
Keep your eyes on the prize
And that word in your heart
Yeah, we'll be alright"
When speaking about the inspiration behind 'Power,' Kyle said, "We thought about how Jesus conquered death, and how we HAVE the power in us. When we're in the middle of a challenging time, it's easy to feel alone or forget that the battle has already been won. But this song is one of empowerment. We want to remind listeners that THEY have the power within themselves. It's that easy — we need only believe."
Just listen as We Are Messengers belts out these powerful lyrics.
"We got that Holy Ghost power
We got our hearts set on love
We got that Holy Ghost power
We keep our eyes fixed above"
When we put our trust in the Lord, there is truly nothing that can stand in our way. Let us raise our voice's in praise for His Holy Name.
Acts 16:31 "They replied, "Believe in the Lord Jesus, and you will be saved—you and your household."
we-are-messengers

2572 views

2019-09-17T14:26:05

source: We Are Messengers . Christian band We Are Messengers releases the official music video for their latest song, 'Power.'

This powerful song was written by lead singer Darren Mulligan and fellow band mate Kyle Williams. You may know Kyle from his recent win on the NBC show, 'Songland.'

Today, he's using his gift to write words that give glory to the Lord.

"Just keep moving on
Just keep pushing ahead
Yeah, the new has come
All the old is dead
Just keep moving on
Keep your eyes on the prize
And that word in your heart
Yeah, we'll be alright"

When speaking about the inspiration behind 'Power,' Kyle said, "We thought about how Jesus conquered death, and how we HAVE the power in us. When we're in the middle of a challenging time, it's easy to feel alone or forget that the battle has already been won. But this song is one of empowerment. We want to remind listeners that THEY have the power within themselves. It's that easy — we need only believe."

Just listen as We Are Messengers belts out these powerful lyrics.

"We got that Holy Ghost power
We got our hearts set on love
We got that Holy Ghost power
We keep our eyes fixed above"

When we put our trust in the Lord, there is truly nothing that can stand in our way. Let us raise our voice's in praise for His Holy Name.

Acts 16:31 "They replied, "Believe in the Lord Jesus, and you will be saved—you and your household."

Today's Devotional
A Prayer for a Full Understanding of God's Word - Your Daily Prayer - August 6
Top Artists