Special Music: "I'm Redeemed!" First Presbyterian Church, Perkasie. Richard Scott MacLaren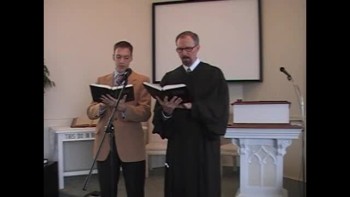 Pastor MacLaren and Mr. Joseph Waggoner sing a selection of hymns (#419-420) from the "Sing to the Lord" Hymnal, during the Sunday Worship Service of 11/14/2010 at First Presbyterian Church (OPC) in Perkasie, PA (USA; www.firstchurchopc.org). Mrs. Rebekah

Waggoner accompanies them on the piano.
Embed

rsmac12

569 views

2010-11-14T17:06:41

Pastor MacLaren and Mr. Joseph Waggoner sing a selection of hymns (#419-420) from the "Sing to the Lord" Hymnal, during the Sunday Worship Service of 11/14/2010 at First Presbyterian Church (OPC) in Perkasie, PA (USA; www.firstchurchopc.org). Mrs. Rebekah
Waggoner accompanies them on the piano.
Today's Devotional
A Prayer for Broken Hearts - Your Daily Prayer - November 28
Feeling heartbroken is probably one of the worst pains we endure as humans. It's an outwardly unseen injury, a wound so deep, no one else can remove the pain from us no matter how many sweet, comforting words they speak to us.
Top Artists
Top Music Videos
Christian News
The latest news and hot topics trending among Christian music, entertainment and faith life.