'This Is Jesus' We Are Messengers Christmas Song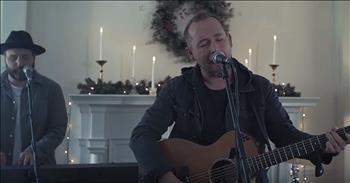 Christian band We Are Messengers reminds us of the real reason for the Christmas season with their hit song 'This Is Jesus.'

It was truly a miraculous night that our Savior was born and His birth paved the way for our salvation. These lyrics tell of His many wonders and blessings.
"Night of wonder
Still and silent
Heaven's brilliance from above
Light of glory
Pierced the darkness
Mercy pierced my heart with love"
For years, We Are Messengers has been using their poignant lyrics to share the Gospel. And this Christmas song is particularly special to the group.
Lead singer Darren Mulligan spoke with The Christian Beat about the inspiration behind the song. "God sent His Son to be born in a stable to the virgin Mary and to take on human flesh and live the most incredible, holy, wonderful life, and then to die," Mulligan shares, reflecting on the message of the song. "It's almost too hard to fathom, but this is Jesus. He is the King of Glory, here to rescue us."
"This is Jesus
King of glory
Here to rescue from the fall
Son of God who
Comes to save us
Prince of peace and Lord of all"
These words are the perfect way to praise His Name this Christmas season. Amen!
John 1:14 "The Word became flesh and made his dwelling among us. We have seen his glory, the glory of the one and only Son, who came from the Father, full of grace and truth."
we-are-messengers

1708 views

2019-11-20T13:36:29

source: WE ARE MESSENGERS Christian band We Are Messengers reminds us of the real reason for the Christmas season with their hit song 'This Is Jesus.'

It was truly a miraculous night that our Savior was born and His birth paved the way for our salvation. These lyrics tell of His many wonders and blessings.

"Night of wonder
Still and silent
Heaven's brilliance from above
Light of glory
Pierced the darkness
Mercy pierced my heart with love"

For years, We Are Messengers has been using their poignant lyrics to share the Gospel. And this Christmas song is particularly special to the group.

Lead singer Darren Mulligan spoke with The Christian Beat about the inspiration behind the song. "God sent His Son to be born in a stable to the virgin Mary and to take on human flesh and live the most incredible, holy, wonderful life, and then to die," Mulligan shares, reflecting on the message of the song. "It's almost too hard to fathom, but this is Jesus. He is the King of Glory, here to rescue us."

"This is Jesus
King of glory
Here to rescue from the fall
Son of God who
Comes to save us
Prince of peace and Lord of all"

These words are the perfect way to praise His Name this Christmas season. Amen!

John 1:14 "The Word became flesh and made his dwelling among us. We have seen his glory, the glory of the one and only Son, who came from the Father, full of grace and truth."

Today's Devotional
A Prayer for the Filling of God's Power and Love - Your Daily Prayer - August 4
Top Artists