'We Praise You' Brandon Lake And Bethel Music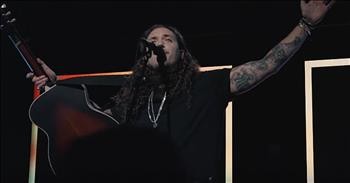 Contemporary Christian artist Brandon Lake leads up in worship with 'We Praise You.' As you listen to these words, be reminded that God is our strength each step of the way.

"We'll see You break down every wall
We'll watch the giants fall
Fear cannot survive when we praise You
The God of breakthrough's on our side
Forever lift Him high
With all creation cry, God we praise You"
Today, Brandon Lake is with Bethel Music for a live performance of 'We Praise You.' On their YouTube page, Bethel Music wrote about the story behind the song. "Brandon co-wrote the song with Brian Johnson and Phil Wickham as a bold declaration that the power of praise changes everything. "We Praise You" commissions us to fix our eyes on God, and take hold of the weapon of praise that silences the enemy and calms every storm."
"This is what living looks like
This is what freedom feels like
This is what heaven sounds like
We praise You, we praise You"
We when put our trust in the Lord, we are truly opening ourselves up to a better life. Rest your worries on His shoulders and He will carry the burden. Let us use these words to praise His Name for the whole world to hear.
Psalm 37:4-6 "Delight yourself in the LORD, and he will give you the desires of your heart. Commit your way to the LORD; trust in him, and he will act. He will bring forth your righteousness as the light, and your justice as the noonday."
bethel-music

735 views

2020-03-12T12:14:08

source: Bethel Music Contemporary Christian artist Brandon Lake leads up in worship with 'We Praise You.' As you listen to these words, be reminded that God is our strength each step of the way.

"We'll see You break down every wall
We'll watch the giants fall
Fear cannot survive when we praise You
The God of breakthrough's on our side
Forever lift Him high
With all creation cry, God we praise You"

Today, Brandon Lake is with Bethel Music for a live performance of 'We Praise You.' On their YouTube page, Bethel Music wrote about the story behind the song. "Brandon co-wrote the song with Brian Johnson and Phil Wickham as a bold declaration that the power of praise changes everything. "We Praise You" commissions us to fix our eyes on God, and take hold of the weapon of praise that silences the enemy and calms every storm."

"This is what living looks like
This is what freedom feels like
This is what heaven sounds like
We praise You, we praise You"

We when put our trust in the Lord, we are truly opening ourselves up to a better life. Rest your worries on His shoulders and He will carry the burden. Let us use these words to praise His Name for the whole world to hear.

Psalm 37:4-6 "Delight yourself in the LORD, and he will give you the desires of your heart. Commit your way to the LORD; trust in him, and he will act. He will bring forth your righteousness as the light, and your justice as the noonday."

Today's Devotional
A Prayer for a Full Understanding of God's Word - Your Daily Prayer - August 6
Top Artists