Carrie Underwood's Husband Mike Fisher Shares Faith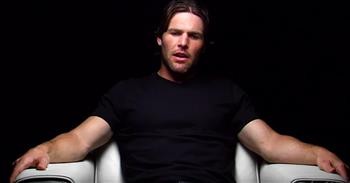 Mike Fisher, former professional hockey player and husband to country superstar Carrie Underwood, shares his moving testimony of faith.

Mike grew up in a family of believers. In fact, he gave his life to Christ when he was just six years old. But when he was drafted at the age of seventeen, Mike moved to Canada to play for the Ontario Hockey League. While away from home, he started to live a different life. A few years later, his dream of playing in the National Hockey League came true, but he still felt an emptiness inside.
It wasn't until he was going through the motions at a bible study, led by his cousin, that God spoke right to Mike. They read the verse Luke 9: 23-25 and Mike immediately started to pay attention. "I remember that scripture just kind of hitting me and that was for me because I'd reached my dreams. I had money and everything and thought I was cool and just wasn't working. And I knew where the answer, but I hadn't been looking for it in the right places."
That's when Mike really started to turn his life over to God. "Through a process of just praying and getting in the Word with my cousin, my life was changed. For the first time I remember thinking, 'Man, this is really real.'"
Mike went on to dedicate his life to Christ and enjoy a long and lasting career in the NHL. "It didn't happen overnight, but slowly God changed me on the inside."
godtube-inspiration

16877 views

2019-05-31T15:54:24

source: I Am Second Mike Fisher, former professional hockey player and husband to country superstar Carrie Underwood, shares his moving testimony of faith.

Mike grew up in a family of believers. In fact, he gave his life to Christ when he was just six years old. But when he was drafted at the age of seventeen, Mike moved to Canada to play for the Ontario Hockey League. While away from home, he started to live a different life. A few years later, his dream of playing in the National Hockey League came true, but he still felt an emptiness inside.

It wasn't until he was going through the motions at a bible study, led by his cousin, that God spoke right to Mike. They read the verse Luke 9: 23-25 and Mike immediately started to pay attention. "I remember that scripture just kind of hitting me and that was for me because I'd reached my dreams. I had money and everything and thought I was cool and just wasn't working. And I knew where the answer, but I hadn't been looking for it in the right places."

That's when Mike really started to turn his life over to God. "Through a process of just praying and getting in the Word with my cousin, my life was changed. For the first time I remember thinking, 'Man, this is really real.'"

Mike went on to dedicate his life to Christ and enjoy a long and lasting career in the NHL. "It didn't happen overnight, but slowly God changed me on the inside."
Today's Devotional
A Prayer for Self-Control - Your Daily Prayer - October 16
Top Artists