'Hundred Miles' Passion Live Performance Featuring Crowder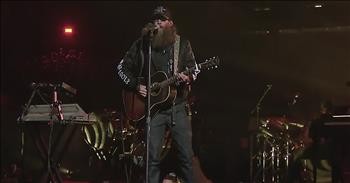 Be blessed as Passion performs a powerful rendition of the worship song 'Hundred Miles' alongside Crowder. These words remind us all that there is strength in the Name of the Jesus.

"Bless the Lord, oh my soul
Sing praise to Him and Him alone
Bless the Lord, oh my soul
Sing praise with me, you heavenly hosts"
Passion has been sharing God's message with the next generation since 1995. With a keen sense of how to reach the younger audience, Passion is using worship music to bring more and more followers to Christ. Their powerful lyrics and melodies have touched so many hearts and these words continue to ring true.
Today, Passion is performing the hit song 'Hundred Miles.' This single was also released by contemporary Christian artist David Crowder. He joins this incredible worship band for this special live performance where we are reminded that no one can compare to our God.
"And I can't help myself
There is no one else
Like you, God
And I could sing a song
A hundred miles long
But it won't compare"
We are so blessed to serve such a loving and gracious Father in Heaven. His forgiveness set us all free and He continues to give us so much more than we deserve. Let us remember His power as we sing these praises to His Name for the whole world to hear.
Isaiah 41:10 "So do not fear, for I am with you; do not be dismayed, for I am your God. I will strengthen you and help you; I will uphold you with my righteous right hand."
Embed

passion-music

3454 views

2019-08-05T15:25:00

Be blessed as Passion performs a powerful rendition of the worship song 'Hundred Miles' alongside Crowder. These words remind us all that there is strength in the Name of the Jesus.

"Bless the Lord, oh my soul
Sing praise to Him and Him alone
Bless the Lord, oh my soul
Sing praise with me, you heavenly hosts"

Passion has been sharing God's message with the next generation since 1995. With a keen sense of how to reach the younger audience, Passion is using worship music to bring more and more followers to Christ. Their powerful lyrics and melodies have touched so many hearts and these words continue to ring true.

Today, Passion is performing the hit song 'Hundred Miles.' This single was also released by contemporary Christian artist David Crowder. He joins this incredible worship band for this special live performance where we are reminded that no one can compare to our God.

"And I can't help myself
There is no one else
Like you, God
And I could sing a song
A hundred miles long
But it won't compare"

We are so blessed to serve such a loving and gracious Father in Heaven. His forgiveness set us all free and He continues to give us so much more than we deserve. Let us remember His power as we sing these praises to His Name for the whole world to hear.

Isaiah 41:10 "So do not fear, for I am with you; do not be dismayed, for I am your God. I will strengthen you and help you; I will uphold you with my righteous right hand."

Today's Devotional
A Prayer for a Heavy Heart - Your Daily Prayer - January 27
Top Artists