'What Child Is This' - Reba McEntire And The Isaacs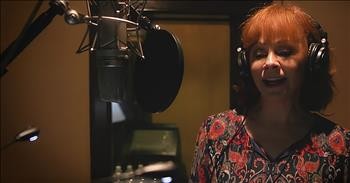 Recently, Reba McEntire recorded the classic Christmas hymn 'What Child Is This' with The Isaacs. This special song, and other holiday tunes, can be found on Reba's 'My Kind of Christmas' album.

'What Child is this
Who laid to rest
On Mary's lap is sleeping?
Whom Angels greet with anthems sweet,
While shepherds watch are keeping?'
Reba McEntire is one of the most well known names in country music and The Isaacs are an award-winning family gospel group. Together, all of these voices combine to produce such an amazing sound proclaiming the birth of our Savior.
'This, this is Christ the King,
Whom shepherds guard and Angels sing
Haste, haste, to bring Him laud,
The Babe, the Son of Mary.'
Today, we get a special behind-the-scenes look at the making of this track and how it all came together. The Christmas classic was recorded at the famous Blackbird studio in Nashville, Tennessee. It is truly amazing to hear all of this talent come together for such a great reason. When you listen to the powerful lyrics of 'What Child Is This' it is the perfect reminder of the real reason for the season. Christmas is about the birth of Jesus Christ and how He came to save us all. What a blessing that is, indeed.
Matthew 2:11 "On coming to the house, they saw the child with his mother Mary, and they bowed down and worshiped him. Then they opened their treasures and presented him with gifts of gold, frankincense and myrrh."
reba-mcentire

9024 views

2018-12-10T12:33:24

source: Reba McEntire Recently, Reba McEntire recorded the classic Christmas hymn 'What Child Is This' with The Isaacs. This special song, and other holiday tunes, can be found on Reba's 'My Kind of Christmas' album.

'What Child is this
Who laid to rest
On Mary's lap is sleeping?
Whom Angels greet with anthems sweet,
While shepherds watch are keeping?'

Reba McEntire is one of the most well known names in country music and The Isaacs are an award-winning family gospel group. Together, all of these voices combine to produce such an amazing sound proclaiming the birth of our Savior.

'This, this is Christ the King,
Whom shepherds guard and Angels sing
Haste, haste, to bring Him laud,
The Babe, the Son of Mary.'

Today, we get a special behind-the-scenes look at the making of this track and how it all came together. The Christmas classic was recorded at the famous Blackbird studio in Nashville, Tennessee. It is truly amazing to hear all of this talent come together for such a great reason. When you listen to the powerful lyrics of 'What Child Is This' it is the perfect reminder of the real reason for the season. Christmas is about the birth of Jesus Christ and how He came to save us all. What a blessing that is, indeed.

Matthew 2:11 "On coming to the house, they saw the child with his mother Mary, and they bowed down and worshiped him. Then they opened their treasures and presented him with gifts of gold, frankincense and myrrh."
Today's Devotional
A Prayer for Friendship - Your Daily Prayer - February 22
Top Artists