Two Toddler Best Friends Run To Greet Each Other In The Sweetest Way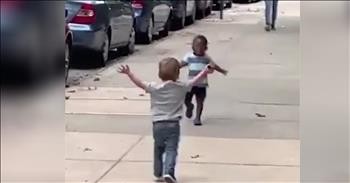 It was a heartwarming moment captured on camera when these toddler best friends run to greet each other.

Children truly see the world through a completely different set of eyes than adults. The simplest things in our world can be the biggest moment for a young child. They are full of innocence and wonder. And it's a trait that a lot of us wish we still had today.
With kids, there is no judgment and no fear of embarrassment. They simply care for others with a full heart of love.
Today, two friends are the talk of the Internet after their sweet embrace went viral. Maxwell and Finnegan are best friends living in New York City. These two-year-olds spend a lot of time together and they are always excited for a play date.
Just watch as they spot each other on the sidewalk and run to greet one another with a huge hug. This may seem like a normal greeting for the boys, but for the world, it's a reminder to stop and find joy in the little things.
The smiles plastered across their faces tell us that just being in one another's presence is the highlight of their day. I'm so glad that this sweet moment was caught on film!
Psalm 127: 3-5 "3 Children are a heritage from the LORD, offspring a reward from him. 4 Like arrows in the hands of a warrior are children born in one's youth. 5 Blessed is the man whose quiver is full of them. They will not be put to shame when they contend with their opponents in court."
kidsarecute

5346 views

2019-09-17T12:45:25

source: ABC News It was a heartwarming moment captured on camera when these toddler best friends run to greet each other.

Children truly see the world through a completely different set of eyes than adults. The simplest things in our world can be the biggest moment for a young child. They are full of innocence and wonder. And it's a trait that a lot of us wish we still had today.

With kids, there is no judgment and no fear of embarrassment. They simply care for others with a full heart of love.

Today, two friends are the talk of the Internet after their sweet embrace went viral. Maxwell and Finnegan are best friends living in New York City. These two-year-olds spend a lot of time together and they are always excited for a play date.

Just watch as they spot each other on the sidewalk and run to greet one another with a huge hug. This may seem like a normal greeting for the boys, but for the world, it's a reminder to stop and find joy in the little things.

The smiles plastered across their faces tell us that just being in one another's presence is the highlight of their day. I'm so glad that this sweet moment was caught on film!

Psalm 127: 3-5 "3 Children are a heritage from the LORD, offspring a reward from him. 4 Like arrows in the hands of a warrior are children born in one's youth. 5 Blessed is the man whose quiver is full of them. They will not be put to shame when they contend with their opponents in court."

Today's Devotional
A Prayer for Intentional Marriage - Your Daily Prayer - October 14
Top Artists