Nuns Dance To Queen's 'We Will Rock You'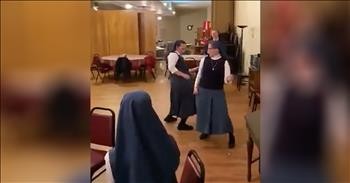 It was a moment full of song and praise when these nuns dance to Queen's iconic song 'We Will Rock You.' When these women of God all gathered around tables together, I thought it was just going to be a time of fellowship and conversation. I had no idea that they were going to let loose in the most incredible way. It all starts when someone turns on the stereo and Queen begins to play.

A seated nun bangs on the table, in tune with the beat. Then, the camera pans to other women standing at the front of the room. They are dancing along to this unlikely tune and having a great time. More of the nuns start to clap along and sing the famous lyrics. But the biggest surprise of all was when one nun stepped into the middle of the room for the guitar solo. And she definitely nailed every single note.
Normally, when we think of nuns, images of stoic women with somber looks on their faces come to mind. I definitely don't think of ladies listening to rock music. But who says that women of God can't have variety in their choice of music? It is obvious that they were having a blast during this entire song and so was I! What did you think of this rock number?
Psalm 149:3-4 "3 Let them praise his name with dancing and make music to him with timbrel and harp. 4 For the LORD takes delight in his people; he crowns the humble with victory."
godtube-inspiration

17096 views

2019-02-14T15:17:00

source: RANK TV It was a moment full of song and praise when these nuns dance to Queen's iconic song 'We Will Rock You.' When these women of God all gathered around tables together, I thought it was just going to be a time of fellowship and conversation. I had no idea that they were going to let loose in the most incredible way. It all starts when someone turns on the stereo and Queen begins to play.

A seated nun bangs on the table, in tune with the beat. Then, the camera pans to other women standing at the front of the room. They are dancing along to this unlikely tune and having a great time. More of the nuns start to clap along and sing the famous lyrics. But the biggest surprise of all was when one nun stepped into the middle of the room for the guitar solo. And she definitely nailed every single note.

Normally, when we think of nuns, images of stoic women with somber looks on their faces come to mind. I definitely don't think of ladies listening to rock music. But who says that women of God can't have variety in their choice of music? It is obvious that they were having a blast during this entire song and so was I! What did you think of this rock number?

Psalm 149:3-4 "3 Let them praise his name with dancing and make music to him with timbrel and harp. 4 For the LORD takes delight in his people; he crowns the humble with victory."
Today's Devotional
A Prayer for the Lost - Your Daily Prayer - June 26
Top Artists