'Me And God' Josh Turner Acoustic Nashville Performance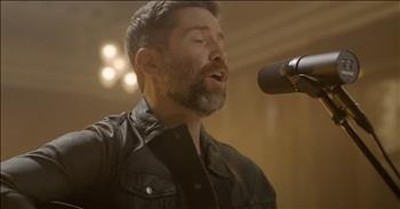 Enjoy an acoustic performance of 'Me And God' as Josh Turner performs live from The Hermitage Hotel in Nashville.

These powerful words remind us that we have the strength of the Lord by our side.
"He's my father, He's my friend
The beginning and the end
He rules the world with a staff and rod
We're a team. Me and God."
Josh Turner is one of the most recognizable names in country music. He shot on the scene with his iconic single, 'Long Black Train' and hasn't stopped since.
'Me And God' was a 2006 single and one of his first songs to speak on the subject of faith.
In 2018, Josh released his first gospel album, titled 'My Savior.' The worship-filled record is full of beautiful hymns and original recordings. Since that time, the popular artist has been sharing the Word of God all over the country. Josh has always been open about the importance of faith in his life.
Today, he's at The Hermitage Hotel in Nashville for a very special performance of 'Me And God.' As he belts out these words, you can feel the spirit of the Lord fill your heart and mind.
"I am weak, and he is strong.
Me and God.
He forgives me when I'm wrong. Me and God.
He's the one I lean on when life gets hard. Me and God"
Isaiah 40:31 "But they who wait for the LORD shall renew their strength; they shall mount up with wings like eagles; they shall run and not be weary; they shall walk and not faint."
josh-turner

2113 views

2021-08-06T16:21:51

source: Josh Turner Enjoy an acoustic performance of 'Me And God' as Josh Turner performs live from The Hermitage Hotel in Nashville.

These powerful words remind us that we have the strength of the Lord by our side.

"He's my father, He's my friend
The beginning and the end
He rules the world with a staff and rod
We're a team. Me and God."

Josh Turner is one of the most recognizable names in country music. He shot on the scene with his iconic single, 'Long Black Train' and hasn't stopped since.

'Me And God' was a 2006 single and one of his first songs to speak on the subject of faith.

In 2018, Josh released his first gospel album, titled 'My Savior.' The worship-filled record is full of beautiful hymns and original recordings. Since that time, the popular artist has been sharing the Word of God all over the country. Josh has always been open about the importance of faith in his life.

Today, he's at The Hermitage Hotel in Nashville for a very special performance of 'Me And God.' As he belts out these words, you can feel the spirit of the Lord fill your heart and mind.

"I am weak, and he is strong.
Me and God.
He forgives me when I'm wrong. Me and God.
He's the one I lean on when life gets hard. Me and God"

Isaiah 40:31 "But they who wait for the LORD shall renew their strength; they shall mount up with wings like eagles; they shall run and not be weary; they shall walk and not faint."

Top Artists
Top Music Videos