Kid Opera Singer Stuns With 'Nessun Dorma' Performance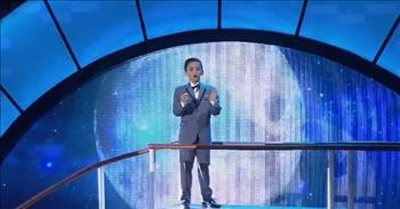 This incredibly talented kid opera singer stuns with his 'Nessun Dorma' performance.

Opera performances require emotional depth and mature vocal talent, things that only adults normally have. But every once in a while, one of God's children is blessed with unbelievable talent.
Meet Jorge Enrigue. Jorge performed on UK's 'Little Big Shots' a few years ago when he looked like he was probably only eight years old.
His pronunciation and technique are beautiful!
He sang the popular 'Nessun Dorma' which became well known in the non-opera world about 30 years ago. BBC covered the 1990 FIFA World Cup in Italy and used Luciano Pavarotti's recording of the song as the intro music to its television coverage.
'Nessun Dorma' was originally written for the 1926 play called 'Turandot' and completed the final act. The name translates to 'let no one sleep.'
In the show, a prince solves three riddles to win the princess' heart. The prince correctly solves the riddles and celebrates his guaranteed win with 'Nessun Dorma.' Extra context from the opera solidifies its morbid theme, so we will skip all of that.
BUT -- I do wonder if Jorge learned the song's context along with the words!
He belted his beautiful voice on a high platform on the stage for a large audience. How was he not nervous?!
A large moon projected behind him to set the scene. 'Night' is in the title after all. AND his little gray suit matched that huge moon! Too cute!
The audience was clearly impressed. His parents even cried in the audience. I don't know how they couldn't cry! I would be sobbing!
Even though not everybody is an opera fan, I think we can all agree that Jorge is a star!
Every good gift and every perfect gift is from above, and cometh down from the Father of lights, with whom is no variableness, neither shadow of turning. Of his own will begat he us with the word of truth, that we should be a kind of firstfruits of his creatures.
James 1:17-18
kidsarecute

3764 views

2021-06-14T17:37:33

source: Little Big Shots UK This incredibly talented kid opera singer stuns with his 'Nessun Dorma' performance.

Opera performances require emotional depth and mature vocal talent, things that only adults normally have. But every once in a while, one of God's children is blessed with unbelievable talent.

Meet Jorge Enrigue. Jorge performed on UK's 'Little Big Shots' a few years ago when he looked like he was probably only eight years old.

His pronunciation and technique are beautiful!

He sang the popular 'Nessun Dorma' which became well known in the non-opera world about 30 years ago. BBC covered the 1990 FIFA World Cup in Italy and used Luciano Pavarotti's recording of the song as the intro music to its television coverage.

'Nessun Dorma' was originally written for the 1926 play called 'Turandot' and completed the final act. The name translates to 'let no one sleep.'

In the show, a prince solves three riddles to win the princess' heart. The prince correctly solves the riddles and celebrates his guaranteed win with 'Nessun Dorma.' Extra context from the opera solidifies its morbid theme, so we will skip all of that.

BUT -- I do wonder if Jorge learned the song's context along with the words!

He belted his beautiful voice on a high platform on the stage for a large audience. How was he not nervous?!

A large moon projected behind him to set the scene. 'Night' is in the title after all. AND his little gray suit matched that huge moon! Too cute!

The audience was clearly impressed. His parents even cried in the audience. I don't know how they couldn't cry! I would be sobbing!

Even though not everybody is an opera fan, I think we can all agree that Jorge is a star!

Every good gift and every perfect gift is from above, and cometh down from the Father of lights, with whom is no variableness, neither shadow of turning. Of his own will begat he us with the word of truth, that we should be a kind of firstfruits of his creatures. James 1:17-18

Top Artists
Top Music Videos