'Truth Be Told' Matthew West And Carly Pearce Official Music Video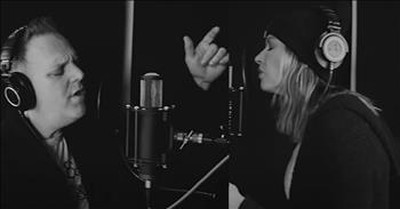 Matthew West and country star Carly Pearce perform a stunning duet of his hit song, 'Truth Be Told.' This beautiful song reminds us all that there is no problem too big for the Lord. He accepts us just the way we are.

"I don't know why it's so hard to admit it
When being honest is the only way to fix it
There's no failure, no fall
There's no sin you don't already know
So let the truth be told"
Matthew West has been recording worship music for over two decades. He is a Dove award-winning musician who has given us hits such as 'Forgiveness' and 'Hello (My Name Is).' Today, he's teaming up with critically-acclaimed country artist, Carly Pearce for a special performance of 'Truth Be Told.'
"Can I really stand here unashamed
And know that you love for me won't change
Oh God If that's really true
Then let the Truth Be Told"
On
Instagram
, Carly Pearce shared the story behind her addition to the song. "My faith has always been a huge part of my life, but especially in the last year. When @matthewjwest asked me to be a part of this song, I knew it was God winking at me."
What a beautiful reminder that there is hope and forgiveness in the arms of the Lord.
Isaiah 1:18 : "Come now, let us reason together, says the LORD: though your sins are like scarlet, they shall be as white as snow; though they are red like crimson, they shall become like wool."
matthew-west

7004 views

2021-03-08T16:15:00

source: Matthew West Matthew West and country star Carly Pearce perform a stunning duet of his hit song, 'Truth Be Told.' This beautiful song reminds us all that there is no problem too big for the Lord. He accepts us just the way we are.

"I don't know why it's so hard to admit it
When being honest is the only way to fix it
There's no failure, no fall
There's no sin you don't already know
So let the truth be told"

Matthew West has been recording worship music for over two decades. He is a Dove award-winning musician who has given us hits such as 'Forgiveness' and 'Hello (My Name Is).' Today, he's teaming up with critically-acclaimed country artist, Carly Pearce for a special performance of 'Truth Be Told.'

"Can I really stand here unashamed
And know that you love for me won't change
Oh God If that's really true
Then let the Truth Be Told"

On Instagram, Carly Pearce shared the story behind her addition to the song. "My faith has always been a huge part of my life, but especially in the last year. When @matthewjwest asked me to be a part of this song, I knew it was God winking at me."

What a beautiful reminder that there is hope and forgiveness in the arms of the Lord.

Isaiah 1:18 : "Come now, let us reason together, says the LORD: though your sins are like scarlet, they shall be as white as snow; though they are red like crimson, they shall become like wool."

Today's Devotional
A Prayer to Remember That Joy Is a Way of Life - Your Daily Prayer - May 21
The Bible commands us, "be joyful aways!"
Top Artists
Top Music Videos