51-Year-Old Singer Finally Gets Her Shot With Mesmerizing AGT Audition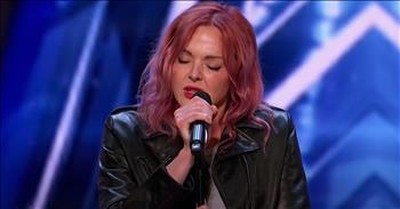 When a 51-year-old singer finally gets her shot with a mesmerizing America's Got Talent audition, she makes it abundantly clear that age really is just a number! Storm Large, born Susan Storm Large in Southborough, Massachusetts, has been performing music for over 30 years.

Storm casually strolls onto the stage, appearing relaxed and rather "chill." She's got crimson lips and matching red hair, and she wears non-mom blue jeans, a black leather jacket over a gray t-shirt, and tennis shoes. When the judges ask Storm to tell them about herself, she amazes them with the admission that she is 51 years old, because she certainly does not look like it!
As the judges chat with Storm, though, we can see the grace and confidence that grows out of life experience and maturity. Storm states that she is honored and terrified about the opportunity before her, assuring the panel with her words that she doesn't take this moment for granted. She is poised and quick, responding to Simon's question about whether they'd met before with a quip about how they were so young then. She's a hit before she even begins!
Though others have recorded it, Frank Sinatra's version of "I've Got You Under My Skin" may be the most widely recognized rendition. The song was written by Cole Porter in 1936, a jazzy, light-hearted ditty. It tells the story of a person who is infatuated with another, recognizes a relationship may not be wise, but yet finds it hard to resist pursuing the object of affection.
When Storm delivers her interpretation of the song, it's like the winds and weather have definitely changed. Her song is far slower and more dramatic, and it's more rock and no jazz. The mood is desperate instead of merely disheartened.
Storm has the judges riveted. Her voice is powerful, and it is obvious her lungs are as fit and healthy as is her toned 51-year-old body. When Storm finishes, all four judges give her a standing ovation and use words including: "mesmerized," "possessed," "well done," "amazing," "incredible," "sexy," "powerful," "insane," and, yes, "young lady."
When Sofia Vergara praises Storm's performance, Storm responds with "Gracias, Carina," which means "Thanks, Love." Well, thank you, Storm, for proving that dreams can be accomplished at any age!
"Moses was eighty years old and Aaron eighty-three when they spoke to Pharaoh."
Exodus 7:7
godtube-inspiration

1331 views

2021-07-12T10:08:19

source: Talent Recap When a 51-year-old singer finally gets her shot with a mesmerizing America's Got Talent audition, she makes it abundantly clear that age really is just a number! Storm Large, born Susan Storm Large in Southborough, Massachusetts, has been performing music for over 30 years.

Storm casually strolls onto the stage, appearing relaxed and rather "chill." She's got crimson lips and matching red hair, and she wears non-mom blue jeans, a black leather jacket over a gray t-shirt, and tennis shoes. When the judges ask Storm to tell them about herself, she amazes them with the admission that she is 51 years old, because she certainly does not look like it!

As the judges chat with Storm, though, we can see the grace and confidence that grows out of life experience and maturity. Storm states that she is honored and terrified about the opportunity before her, assuring the panel with her words that she doesn't take this moment for granted. She is poised and quick, responding to Simon's question about whether they'd met before with a quip about how they were so young then. She's a hit before she even begins!

Though others have recorded it, Frank Sinatra's version of "I've Got You Under My Skin" may be the most widely recognized rendition. The song was written by Cole Porter in 1936, a jazzy, light-hearted ditty. It tells the story of a person who is infatuated with another, recognizes a relationship may not be wise, but yet finds it hard to resist pursuing the object of affection.

When Storm delivers her interpretation of the song, it's like the winds and weather have definitely changed. Her song is far slower and more dramatic, and it's more rock and no jazz. The mood is desperate instead of merely disheartened.

Storm has the judges riveted. Her voice is powerful, and it is obvious her lungs are as fit and healthy as is her toned 51-year-old body. When Storm finishes, all four judges give her a standing ovation and use words including: "mesmerized," "possessed," "well done," "amazing," "incredible," "sexy," "powerful," "insane," and, yes, "young lady."

When Sofia Vergara praises Storm's performance, Storm responds with "Gracias, Carina," which means "Thanks, Love." Well, thank you, Storm, for proving that dreams can be accomplished at any age!

"Moses was eighty years old and Aaron eighty-three when they spoke to Pharaoh." Exodus 7:7

Today's Devotional
A Prayer to Remember That Joy Is a Way of Life - Your Daily Prayer - May 21
The Bible commands us, "be joyful aways!"
Top Artists
Top Music Videos