'New Ground' Tauren Wells Live Performance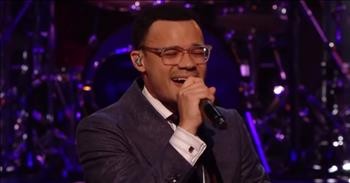 Talented Christian artist Tauren Wells performs his latest song, "New Ground." This anthem to the Lord is all about the power and love that He reigns down on us.

"I believe
You'll bring to life forgotten dreams in my heart
'Cause that's who You are, oh
And as I sing
A miracle is happening even now
You're breaking new ground in me"
When we hand ourselves over to the Lord, we are truly starting a brand new life. He sent His only Son down from Heaven to die for our sins and now we are all forgiven. Because of that sacrifice, we are free to live out our eternal days with our Father.
"I have seen glimpses
Of all that Your love intends for my good
High expectations
My hope hangs on Your promises for You are good"
Tauren does a beautifully job of sharing God's message through song. This amazing performer has the perfect vocals to compliment this stunning worship song. We have seen the many great things He can do and now we are letting the world know of His holy name. Together, we can sing of His praises and make joyful noise for all. Who else is saying amen right now?
1 Chronicles 29:11 "Yours, O LORD, is the greatness and the power and the glory and the victory and the majesty, for all that is in the heavens and in the earth is yours. Yours is the kingdom, O LORD, and you are exalted as head above all."
tauren-wells

1850 views

2019-03-01T10:22:42

source: Tauren Wells Talented Christian artist Tauren Wells performs his latest song, "New Ground." This anthem to the Lord is all about the power and love that He reigns down on us.

"I believe
You'll bring to life forgotten dreams in my heart
'Cause that's who You are, oh
And as I sing
A miracle is happening even now
You're breaking new ground in me"

When we hand ourselves over to the Lord, we are truly starting a brand new life. He sent His only Son down from Heaven to die for our sins and now we are all forgiven. Because of that sacrifice, we are free to live out our eternal days with our Father.

"I have seen glimpses
Of all that Your love intends for my good
High expectations
My hope hangs on Your promises for You are good"

Tauren does a beautifully job of sharing God's message through song. This amazing performer has the perfect vocals to compliment this stunning worship song. We have seen the many great things He can do and now we are letting the world know of His holy name. Together, we can sing of His praises and make joyful noise for all. Who else is saying amen right now?

1 Chronicles 29:11 "Yours, O LORD, is the greatness and the power and the glory and the victory and the majesty, for all that is in the heavens and in the earth is yours. Yours is the kingdom, O LORD, and you are exalted as head above all."
Today's Devotional
A Prayer for God's Greatness - Your Daily Prayer - March 25
Top Artists