'In The Garden' - The Singing Contractors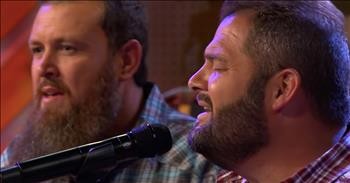 The Singing Contractors lead us in beautiful worship as they perform the classic hymn 'In The Garden.' This special live performance will remind you that God is always with us each step of the way.

"I come to the garden alone
While the dew is still on the roses
And the voice I hear falling on my ear
The Son of God discloses
And He walks with me and He talks with me
And He tells me I am His own
And the joy we share as we tarry there
None other has ever known"
These two talented vocalists went viral singing to the Lord and now they are teaming up with Gaither Music for this beautiful hymn and more. Contractors Aaron Gray and Josh Arnett became overnight sensations back in 2015 when they posted a video of themselves singing
'How Great Thou Art'
on a job site.
Since that time, they've accumulated millions of views online and continue to spread God's message through music. You can find 'In The Garden' and other gospel favorites on The Singing Contractor's new album 'Working On A Building: Hymns And Gospel Classics.' These two men have truly come a long way from singing on job sites but they've never stopped giving all the glory and praise to God. What classic hymn would you like to hear next from The Singing Contractors?
Isaiah 41:10 "So do not fear, for I am with you; do not be dismayed, for I am your God. I will strengthen you and help you; I will uphold you with my righteous right hand."
godtube-inspiration

76051 views

2019-02-06T12:32:00

source: GaitherVEVO The Singing Contractors lead us in beautiful worship as they perform the classic hymn 'In The Garden.' This special live performance will remind you that God is always with us each step of the way.

"I come to the garden alone
While the dew is still on the roses
And the voice I hear falling on my ear
The Son of God discloses
And He walks with me and He talks with me
And He tells me I am His own
And the joy we share as we tarry there
None other has ever known"

These two talented vocalists went viral singing to the Lord and now they are teaming up with Gaither Music for this beautiful hymn and more. Contractors Aaron Gray and Josh Arnett became overnight sensations back in 2015 when they posted a video of themselves singing 'How Great Thou Art' on a job site.

Since that time, they've accumulated millions of views online and continue to spread God's message through music. You can find 'In The Garden' and other gospel favorites on The Singing Contractor's new album 'Working On A Building: Hymns And Gospel Classics.' These two men have truly come a long way from singing on job sites but they've never stopped giving all the glory and praise to God. What classic hymn would you like to hear next from The Singing Contractors?

Isaiah 41:10 "So do not fear, for I am with you; do not be dismayed, for I am your God. I will strengthen you and help you; I will uphold you with my righteous right hand."
Today's Devotional
A Prayer to Be Fully Satisfied by God's Love - Your Daily Prayer - August 7
Top Artists