'As You Find Me' Hillsong UNITED Live Performance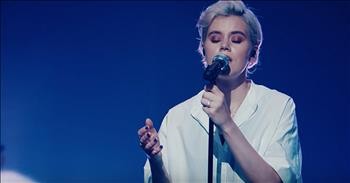 Award-winning Christian group Hillsong UNITED give a live performance of "As You Find Me." His grace will never fail us and these powerful lyrics are the perfect reminder.

"Whether now or then
Death is not my end
I know Heaven waits for me
Though the road seems long
I'll never walk alone
And I got all I need to sing"
This Australian-based worship band gave us popular hits such as 'Oceans (Where Feel May Fail)' and 'So Will I (100 Billion X).' Now, they are blessing us with more words of encouragement with "As You Find Me."
"I know You love me
I know You found me
I know You saved me
And Your grace will never fail me"
Hillsong UNITED is arguably one of the most popular Christian groups of the modern era. Many of their inspirational ballads of worship are now staple songs in church services across the world.
Today's incredible song reminds us that with God by our side, we are never alone. With the Lord by our side, nothing is impossible. He is truly our light and our strength when times get dark. He will be the compass that is always there to guide us home. What a blessing to have the grace and love from our Father in Heaven. This beautiful worship song is the perfect way to praise His name.
James 1:17 "Every good and perfect gift is from above, coming down from the Father of the heavenly lights, who does not change like shifting shadows."
hillsong-united

12466 views

2019-02-11T11:25:26

source: Hillsong UNITED Award-winning Christian group Hillsong UNITED give a live performance of "As You Find Me." His grace will never fail us and these powerful lyrics are the perfect reminder.

"Whether now or then
Death is not my end
I know Heaven waits for me
Though the road seems long
I'll never walk alone
And I got all I need to sing"

This Australian-based worship band gave us popular hits such as 'Oceans (Where Feel May Fail)' and 'So Will I (100 Billion X).' Now, they are blessing us with more words of encouragement with "As You Find Me."

"I know You love me
I know You found me
I know You saved me
And Your grace will never fail me"

Hillsong UNITED is arguably one of the most popular Christian groups of the modern era. Many of their inspirational ballads of worship are now staple songs in church services across the world.

Today's incredible song reminds us that with God by our side, we are never alone. With the Lord by our side, nothing is impossible. He is truly our light and our strength when times get dark. He will be the compass that is always there to guide us home. What a blessing to have the grace and love from our Father in Heaven. This beautiful worship song is the perfect way to praise His name.

James 1:17 "Every good and perfect gift is from above, coming down from the Father of the heavenly lights, who does not change like shifting shadows."
Today's Devotional
A Prayer for Times of Crisis - Your Daily Prayer - June 15
Top Artists