Dolly Parton On Her Legacy And Why She Won't Retire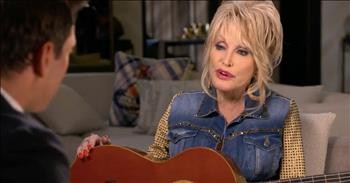 Country superstar Dolly Parton is opening up about her iconic life in a candid interview with CBS Sunday Morning. This legend in country music has been recording and touring for decades and there seems to be no end in sight. At 73 years old, Dolly has made a name for herself as a positive personality that never holds back. She's been upfront about her upbringing, plastic surgery and loud outfits and hairstyles.

Today, we're learning even more about this megastar and it only makes us love her more. One of the most powerful moments of the interview is when Dolly shares about her early life and childhood in the Smoky Mountains of Tennessee. Her family of 15 (12 kids plus Mom and Dad) may have been considered poor financially but not so in many other facets in life. Music was a bright light for Dolly and her mother always encouraged the budding artist. In fact, she wrote "In the Good Old Days" about her time growing up and shares a snippet of the powerful lyrics.
"No amount of money could buy from me
The memories that I have of then
No amount of money could pay me
To go back and live through it again"
While times were tough, the family saw it through and now Dolly is thriving as the reigning queen of country music. Each step of the way, Dolly has had God by her side. Even when choices were tough, she put her faith in His guidance. "You make your choices. You make your sacrifices and I never look back. I knew early on that I was gonna walk that road until God told me to stop. And I'm still walking it and He ain't said nothing to me about quitting yet."
godtube-inspiration

1819 views

2019-02-12T10:51:39

source: CBS Sunday Morning Country superstar Dolly Parton is opening up about her iconic life in a candid interview with CBS Sunday Morning. This legend in country music has been recording and touring for decades and there seems to be no end in sight. At 73 years old, Dolly has made a name for herself as a positive personality that never holds back. She's been upfront about her upbringing, plastic surgery and loud outfits and hairstyles.

Today, we're learning even more about this megastar and it only makes us love her more. One of the most powerful moments of the interview is when Dolly shares about her early life and childhood in the Smoky Mountains of Tennessee. Her family of 15 (12 kids plus Mom and Dad) may have been considered poor financially but not so in many other facets in life. Music was a bright light for Dolly and her mother always encouraged the budding artist. In fact, she wrote "In the Good Old Days" about her time growing up and shares a snippet of the powerful lyrics.

"No amount of money could buy from me
The memories that I have of then
No amount of money could pay me
To go back and live through it again"

While times were tough, the family saw it through and now Dolly is thriving as the reigning queen of country music. Each step of the way, Dolly has had God by her side. Even when choices were tough, she put her faith in His guidance. "You make your choices. You make your sacrifices and I never look back. I knew early on that I was gonna walk that road until God told me to stop. And I'm still walking it and He ain't said nothing to me about quitting yet."
Today's Devotional
A Prayer for Trust - Your Daily Prayer - April 26
Top Artists