Emotional Reunion Between Crash Victim And Guardian Angel Who Came to His Side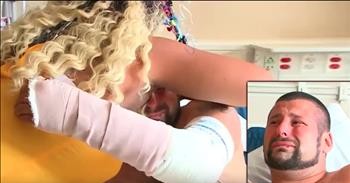 Nicholas Kenter and Terrill Smith used to be complete strangers. But after July 18, that forever changed.

Nicholas was riding down the street on his motorcycle in Omaha, Nebraska when disaster struck. A driver of a van hit him and the sudden impact sent Nicholas flying at least 130 feet.
Somewhere in the process, Nicholas lost part of his ankle. He lay in the road, badly injured and in severe pain. But he wasn't alone for long!
Terrill Smith was driving down the road, too. She was taking her kids to the pool. And the route took her right through the same intersection where Nicholas was hit.
Terrill first saw Nicholas' mangled motorcycle. Further up, she saw his body on the ground and just knew she had to stop.
"I was, like,'Stop the car,' and I jumped out of the car," she recalled.
Terrill appeared by Nicholas' side and immediately started giving him aid. She tied a T-shirt around his right ankle and applied pressure until rescue crews arrived. All the while, she spoke to Nicholas, trying to keep him calm.
Not everyone would pull over for a complete stranger. But God put Terrill in the right place at the right time to help Nicholas. For her, she was just repaying a kindness that was done for her.
In 1988, when Terrill was only 9 years old, a car hit her. A stranger jumped in to help, much in the same way. And if it hadn't been for the man's heroic actions, Terrill would have lost her leg.
So, when she came upon Nicholas' wreck, she knew it was no accident.
"No way that it was a mistake for me to be there when I was there exactly and to help you the same way that I got helped is really odd, actually," Terrill told Nicholas later.
When rescue crews whisked Nicholas away to the hospital, he had no idea who his mysterious angel was. But he was desperate to thank her.
"I owe her my life," he said. "She saved my life. I'm very thankful for it."
Nicholas says Terrill's actions saved both his ankle and his life. He believes he survived
untilweflyaway

3122 views

2018-10-03T10:09:35

source: KETV Nicholas Kenter and Terrill Smith used to be complete strangers. But after July 18, that forever changed.

Nicholas was riding down the street on his motorcycle in Omaha, Nebraska when disaster struck. A driver of a van hit him and the sudden impact sent Nicholas flying at least 130 feet.

Somewhere in the process, Nicholas lost part of his ankle. He lay in the road, badly injured and in severe pain. But he wasn't alone for long!

Terrill Smith was driving down the road, too. She was taking her kids to the pool. And the route took her right through the same intersection where Nicholas was hit.

Terrill first saw Nicholas' mangled motorcycle. Further up, she saw his body on the ground and just knew she had to stop.

"I was, like,'Stop the car,' and I jumped out of the car," she recalled.

Terrill appeared by Nicholas' side and immediately started giving him aid. She tied a T-shirt around his right ankle and applied pressure until rescue crews arrived. All the while, she spoke to Nicholas, trying to keep him calm.

Not everyone would pull over for a complete stranger. But God put Terrill in the right place at the right time to help Nicholas. For her, she was just repaying a kindness that was done for her.

In 1988, when Terrill was only 9 years old, a car hit her. A stranger jumped in to help, much in the same way. And if it hadn't been for the man's heroic actions, Terrill would have lost her leg.

So, when she came upon Nicholas' wreck, she knew it was no accident.

"No way that it was a mistake for me to be there when I was there exactly and to help you the same way that I got helped is really odd, actually," Terrill told Nicholas later.

When rescue crews whisked Nicholas away to the hospital, he had no idea who his mysterious angel was. But he was desperate to thank her.

"I owe her my life," he said. "She saved my life. I'm very thankful for it."

Nicholas says Terrill's actions saved both his ankle and his life. He believes he survived
Today's Devotional
A Prayer for the Filling of God's Power and Love - Your Daily Prayer - August 4
Top Artists