Be Still (Acoustic) - Hillsong Worship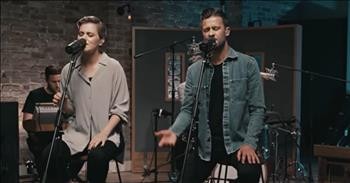 As one of the most recognizable names in Christian music, Hillsong is continuing to touch millions with their soul-searching worship songs. With their album "There Is More" Hillsong works to remind Christians of the hope they have for the future. The song 'Be Still' is based on Psalm 23.

"Be still and know / That the Lord is in control / Be still my soul / Stand and watch as giants fall"
It's a reminder that in the face of fear, God is still there and He's our protector and defender. We love the song as an acoustic version; the focus relies so heavily on the meaningful lyrics as a worship to the Heavenly Father.
"I won't be afraid You are here / You silence all my fear / I won't be afraid / You don't let go / Be still my heart and know / I won't be afraid"
We live in a world where so many, Christians and non-Christians are battling overwhelming worry and fear. But with faith, we should know that those feelings can be replaced with overwhelming peace and joy! 'Be Still' is an effort to repeat those promises in the Bible through a time of worship.
We should run to God as our source of peace. Sometimes it's important to remind ourselves of God's greatness – no matter the mountain, God is greater and waiting for us to call on Him. There is something truly powerful that happens to those doubts as we sing our praises to the Almighty!
"The LORD is my shepherd; I shall not want. He maketh me to lie down in green pastures: he leadeth me beside the still waters. He restoreth my soul: he leadeth me in the paths of righteousness for his name's sake. Yea, though I walk through the valley of the shadow of death, I will fear no evil: for thou art with me" - Psalm 23:1-4a
hillsong-worship

17422 views

2018-10-05T12:57:30

source: Hillsong Worship As one of the most recognizable names in Christian music, Hillsong is continuing to touch millions with their soul-searching worship songs. With their album "There Is More" Hillsong works to remind Christians of the hope they have for the future. The song 'Be Still' is based on Psalm 23.

"Be still and know / That the Lord is in control / Be still my soul / Stand and watch as giants fall"

It's a reminder that in the face of fear, God is still there and He's our protector and defender. We love the song as an acoustic version; the focus relies so heavily on the meaningful lyrics as a worship to the Heavenly Father.

"I won't be afraid You are here / You silence all my fear / I won't be afraid / You don't let go / Be still my heart and know / I won't be afraid"

We live in a world where so many, Christians and non-Christians are battling overwhelming worry and fear. But with faith, we should know that those feelings can be replaced with overwhelming peace and joy! 'Be Still' is an effort to repeat those promises in the Bible through a time of worship.

We should run to God as our source of peace. Sometimes it's important to remind ourselves of God's greatness – no matter the mountain, God is greater and waiting for us to call on Him. There is something truly powerful that happens to those doubts as we sing our praises to the Almighty!

"The LORD is my shepherd; I shall not want. He maketh me to lie down in green pastures: he leadeth me beside the still waters. He restoreth my soul: he leadeth me in the paths of righteousness for his name's sake. Yea, though I walk through the valley of the shadow of death, I will fear no evil: for thou art with me" - Psalm 23:1-4a
Today's Devotional
A Prayer for a New Home - Your Daily Prayer - June 17
Top Artists