11-Year-Old Identical Twins Dance Routine Wins First Place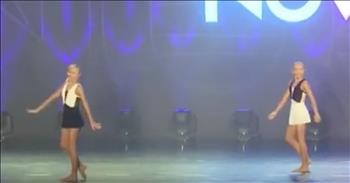 It was a moment full of cheer when these 11-year-old identical twins dance together and win first place. Sisters Kami and Katie Couch have been making headlines for years with their impressive dance routines and dancing definitely runs in the family. Along with their older sister, Mackenzie, The Couch Sisters have taken their talents all across the nation. In fact, Kami served as one of the pro dancers on the first season of Dancing With The Stars Junior in 2018.

Each one of these talented young girls has won countless awards and titles, but this partner number might be one of their best. Kami and Katie performed this amazing duet performance at the 2019 NUVO Long Beach dance competition. Together, they effortlessly glide across the dance floor making every single move look easy. I know it must take so much time and practice to perfect these difficult moves, but the twins pull it off flawlessly.
Kami and Katie are perfectly in sync the entire routine and the classical music soundtrack only strengthens the emotions of the performance. These teens may be young, but they have some incredible talent. It's truly a pleasure to watch them dance on stage and live out their dreams. I hope we continue to see more of these talented identical twins and their family.
Psalm 149: 3-4 "Let them praise his name with dancing and make music to him with timbrel and harp. 4 For the LORD takes delight in his people; he crowns the humble with victory."
godtube-inspiration

14981 views

2019-01-28T10:58:00

source: CarmoDance It was a moment full of cheer when these 11-year-old identical twins dance together and win first place. Sisters Kami and Katie Couch have been making headlines for years with their impressive dance routines and dancing definitely runs in the family. Along with their older sister, Mackenzie, The Couch Sisters have taken their talents all across the nation. In fact, Kami served as one of the pro dancers on the first season of Dancing With The Stars Junior in 2018.

Each one of these talented young girls has won countless awards and titles, but this partner number might be one of their best. Kami and Katie performed this amazing duet performance at the 2019 NUVO Long Beach dance competition. Together, they effortlessly glide across the dance floor making every single move look easy. I know it must take so much time and practice to perfect these difficult moves, but the twins pull it off flawlessly.

Kami and Katie are perfectly in sync the entire routine and the classical music soundtrack only strengthens the emotions of the performance. These teens may be young, but they have some incredible talent. It's truly a pleasure to watch them dance on stage and live out their dreams. I hope we continue to see more of these talented identical twins and their family.

Psalm 149: 3-4 "Let them praise his name with dancing and make music to him with timbrel and harp. 4 For the LORD takes delight in his people; he crowns the humble with victory."
Today's Devotional
A Prayer of Lament from Habakkuk - Your Daily Prayer - November 20
Top Artists