'Whole Heart (Hold Me Now)' - Hillsong UNITED Acoustic Performance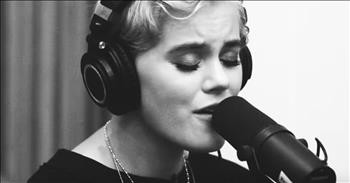 The award-winning Christian group Hillsong UNITED perform an acoustic rendition of their new single 'Whole Heart (Hold Me Now)." This Australian-based worship band gave us popular hits such as 'Oceans (Where Feel May Fail)' and 'So Will I (100 Billion X).' Now, they are blessing us with more words of encouragement.

"Hold me now
In the hands that created the heavens
Find me now
Where the grace runs as deep as Your scars
You pulled me from the clay
Set me on a rock
Called me by Your name
And my heart whole again"
Hillsong UNITED is arguably one of the most popular Christian groups of the modern era. For years, they have led the new generation in worship and praise. Many of their inspirational ballads are now staples in church services across the world and their lyrics have touched millions of hearts. Whole Heart (Hold Me Now)" reminds us that God is our rock and our salvation.
When all of our pieces may be broken, He is the only one that can put us back together. God's grace and understanding floods the Earth and these words are the perfect way to give thanks. Once again, Hillsong UNITED eloquently turns our emotions into a beautiful worship ballad. What another great single from this multi-talented group of inspiring Christians. He made us whole again and forevermore.
James 1:17 "Every good and perfect gift is from above, coming down from the Father of the heavenly lights, who does not change like shifting shadows."
hillsong-united

5979 views

2019-01-15T14:55:07

source: Hillsong UNITED The award-winning Christian group Hillsong UNITED perform an acoustic rendition of their new single 'Whole Heart (Hold Me Now)." This Australian-based worship band gave us popular hits such as 'Oceans (Where Feel May Fail)' and 'So Will I (100 Billion X).' Now, they are blessing us with more words of encouragement.

"Hold me now
In the hands that created the heavens
Find me now
Where the grace runs as deep as Your scars
You pulled me from the clay
Set me on a rock
Called me by Your name
And my heart whole again"

Hillsong UNITED is arguably one of the most popular Christian groups of the modern era. For years, they have led the new generation in worship and praise. Many of their inspirational ballads are now staples in church services across the world and their lyrics have touched millions of hearts. Whole Heart (Hold Me Now)" reminds us that God is our rock and our salvation.

When all of our pieces may be broken, He is the only one that can put us back together. God's grace and understanding floods the Earth and these words are the perfect way to give thanks. Once again, Hillsong UNITED eloquently turns our emotions into a beautiful worship ballad. What another great single from this multi-talented group of inspiring Christians. He made us whole again and forevermore.

James 1:17 "Every good and perfect gift is from above, coming down from the Father of the heavenly lights, who does not change like shifting shadows."
Today's Devotional
A Prayer for Fulfillment - Your Daily Prayer - July 17
Top Artists