Josh Groban's Emotional Song 'River' From New Album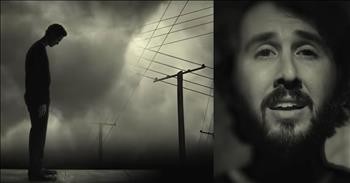 Josh Groban recently released another moving song "River" for his new album Bridges. This song could be an anthem for finding hope when it seems all is lost. In true Groban form, the music is just as emotionally moving as the lyrics themselves. Working through a chorus explaining the doubts and fears that so many share, Groban builds to the uplifting chorus:

"So I walk down to the river,
Where the troubles, they can't find me,
Let the waters there remind me,
The sun will be there when we wake,
I walk down to the river,
Though I might not understand it,
It's not always as we planned it,
But we grow stronger when we break,
So I walk down to the river,
I walk down to the river"
Groban said on his social media page that "River" was a "really personal song". The official video for "River" opens with a dark shadowy Groban singing about difficult times for a man who feels alone but cannot find help. It is in the river that he finds his comfort and peace.
"For people who suffer from anxiety, suffer from depression, suffer from those things, it can feel very isolating...when you go there and write about those things, you realize you're actually not alone... Everybody to a certain degree, goes through those kind of things. "
Josh Groban has been an uplifting voice for many with his music. Often the lyrics offer perspective on love, loss, pain, and encouragement. His unique vocals and passion for his music lead the listener through each song and the emotions that come with it. The "River" is just one of those songs and hopefully will become a voice of encouragement for those who are battling tough times – there is shelter in the river.
"God's blessings are like a river. They fill the city of God with joy. That city is the holy place where the Most High God lives." Psalm 46:4
josh-groban

121399 views

2018-09-21T13:39:00

source: Josh Groban Josh Groban recently released another moving song "River" for his new album Bridges. This song could be an anthem for finding hope when it seems all is lost. In true Groban form, the music is just as emotionally moving as the lyrics themselves. Working through a chorus explaining the doubts and fears that so many share, Groban builds to the uplifting chorus:

"So I walk down to the river,
Where the troubles, they can't find me,
Let the waters there remind me,
The sun will be there when we wake,
I walk down to the river,
Though I might not understand it,
It's not always as we planned it,
But we grow stronger when we break,
So I walk down to the river,
I walk down to the river"

Groban said on his social media page that "River" was a "really personal song". The official video for "River" opens with a dark shadowy Groban singing about difficult times for a man who feels alone but cannot find help. It is in the river that he finds his comfort and peace.

"For people who suffer from anxiety, suffer from depression, suffer from those things, it can feel very isolating...when you go there and write about those things, you realize you're actually not alone... Everybody to a certain degree, goes through those kind of things. "

Josh Groban has been an uplifting voice for many with his music. Often the lyrics offer perspective on love, loss, pain, and encouragement. His unique vocals and passion for his music lead the listener through each song and the emotions that come with it. The "River" is just one of those songs and hopefully will become a voice of encouragement for those who are battling tough times – there is shelter in the river.

"God's blessings are like a river. They fill the city of God with joy. That city is the holy place where the Most High God lives." Psalm 46:4
Today's Devotional
A Prayer for Moms Who Struggle with Their Temper - Your Daily Prayer - February 25
Top Artists