Prayer Chain Helps Save Dying Man's Life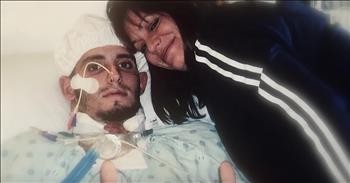 Tyler and Thomas often rode their dirt bikes together. Taking a trail they had ridden on numerous times, the friends quickly found themselves in a scary situation. Tyler had fallen behind his friend. When Tyler came around a corner, he found Thomas "rolling on the ground and gasping for breath". What they didn't know was that there was a cable that had been stretched across the trail. Thomas had unknowingly ridden into the cable which had hit him in the neck and severed his windpipe. He kept repeating to his friend "I can't breathe".

Tyler contacted Thomas' parents as he rushed his friend to the hospital. When his mother learned of the situation, she began to pray. "Lord, if you're going to take him home, tell me now". That's when she felt God speak to her: "You don't go by what you see, by what you hear, you fight".
Before the young man was air-lifted to another hospital, his mother prayed with him and reminded him to "fight". She began to encourage him that he would live. There was no question in her mind that God was in the midst of this family as they joined together in life-saving prayer with their church communities.
Thomas underwent surgery to repair the damage. The family continued to cover him in prayer as he went through the recovery process. Doctors were unsure if he would ever speak or eat on his own again. But God had other plans. After a long recovery, Thomas not only was able to talk, but eat as well. He is now focusing his life on youth ministry and encouraging others. "When Christians are obedient to the discipline of prayer, and they act in faith, God responds to that."
"I definitely give Him the glory and the thanksgiving for just being alive!"
godtube-inspiration

1100 views

2018-09-11T15:39:17

source: The Official 700 Club Tyler and Thomas often rode their dirt bikes together. Taking a trail they had ridden on numerous times, the friends quickly found themselves in a scary situation. Tyler had fallen behind his friend. When Tyler came around a corner, he found Thomas "rolling on the ground and gasping for breath". What they didn't know was that there was a cable that had been stretched across the trail. Thomas had unknowingly ridden into the cable which had hit him in the neck and severed his windpipe. He kept repeating to his friend "I can't breathe".

Tyler contacted Thomas' parents as he rushed his friend to the hospital. When his mother learned of the situation, she began to pray. "Lord, if you're going to take him home, tell me now". That's when she felt God speak to her: "You don't go by what you see, by what you hear, you fight".

Before the young man was air-lifted to another hospital, his mother prayed with him and reminded him to "fight". She began to encourage him that he would live. There was no question in her mind that God was in the midst of this family as they joined together in life-saving prayer with their church communities.

Thomas underwent surgery to repair the damage. The family continued to cover him in prayer as he went through the recovery process. Doctors were unsure if he would ever speak or eat on his own again. But God had other plans. After a long recovery, Thomas not only was able to talk, but eat as well. He is now focusing his life on youth ministry and encouraging others. "When Christians are obedient to the discipline of prayer, and they act in faith, God responds to that."

"I definitely give Him the glory and the thanksgiving for just being alive!"
Today's Devotional
A Prayer for When Your Overwhelmed Heart Aches for His Overwhelming Peace - Your Daily Prayer - April 24
Top Artists