'Winter Wonderland' - Lauren Daigle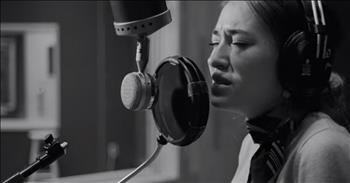 Platinum-selling artist Lauren Daigle is bringing the Christmas spirit with her rendition of 'Winter Wonderland' from the Christmas album 'Behold Deluxe Edition.' The album includes many Christmas classics and this holiday favorite is the perfect tune to match with Lauren's unique vocals. This video clip gives us a behind the scenes glance at the recording of this Christmas song.

'Sleigh bells ring, are you listening
In the lane, snow is glistening
A beautiful sight
We're happy tonight
Walking in a winter wonderland'
2018 has been a major year for Christian artist Lauren Daigle. Daigle has been seen making her debut on daytime and late night television. Her inspiring and uplifting message is connecting with both the Christian and secular music industry. Now, she's spreading Christmas cheer with one of our favorite holiday tunes and I cannot help but sing along.
'Gone away is the bluebird
Here to stay is a new bird
He sings a love song
As we go along
Walking in a winter wonderland'
This Christmas classic always brings up the best memories of the winter season. There's something so special about sledding down the hills or drinking a cup of cocoa while we watch the snowflakes fall. When the trees and roads are covered with snow, it is almost as if God has created an empty canvas for us to behold. Christmas is a sacred time to celebrate the birth of our Savior, Jesus Christ.
Luke 2:14 "Glory to God in the highest heaven, and on earth peace to those on whom his favor rests."
lauren-daigle

7764 views

2018-12-10T14:35:26

source: Lauren Daigle Platinum-selling artist Lauren Daigle is bringing the Christmas spirit with her rendition of 'Winter Wonderland' from the Christmas album 'Behold Deluxe Edition.' The album includes many Christmas classics and this holiday favorite is the perfect tune to match with Lauren's unique vocals. This video clip gives us a behind the scenes glance at the recording of this Christmas song.

'Sleigh bells ring, are you listening
In the lane, snow is glistening
A beautiful sight
We're happy tonight
Walking in a winter wonderland'

2018 has been a major year for Christian artist Lauren Daigle. Daigle has been seen making her debut on daytime and late night television. Her inspiring and uplifting message is connecting with both the Christian and secular music industry. Now, she's spreading Christmas cheer with one of our favorite holiday tunes and I cannot help but sing along.

'Gone away is the bluebird
Here to stay is a new bird
He sings a love song
As we go along
Walking in a winter wonderland'

This Christmas classic always brings up the best memories of the winter season. There's something so special about sledding down the hills or drinking a cup of cocoa while we watch the snowflakes fall. When the trees and roads are covered with snow, it is almost as if God has created an empty canvas for us to behold. Christmas is a sacred time to celebrate the birth of our Savior, Jesus Christ.

Luke 2:14 "Glory to God in the highest heaven, and on earth peace to those on whom his favor rests."
Today's Devotional
A Prayer for Rest from the Need to Prove Ourselves - Your Daily Prayer - October 22
Top Artists