'King of My Heart / Holy Spirit' Medley From Anthem Lights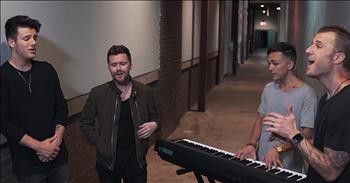 The men of Anthem Lights return with a medley of classic worship songs. 'King Of My Heart' and 'Holy Spirit' are two of the most iconic songs in Christian music. These worship songs have touched hearts all across the world and now they are arranged together for one beautiful performance.

'Let the king of my heart
Be the mountain where I run
The fountain I drink from
He is my song'
These two songs go together perfectly as the 4 voices of Anthem Lights belt out these powerful words. God is truly the King of all kings and He is greater than we could ever imagine. When we hand ourselves over to Him, we allow our hearts to be transformed. His grace is such a beautiful blessing and these lyrics remind us to give thanks.
'Holy Spirit, You are welcome here
Come flood this place and fill the atmosphere
Your glory, God, is what our hearts long for
To be overcome by Your presence, Lord'
It is time to use these words to share His message with others. God created each and every one of us and we should hold strong to His word and truths. Let these amazing words flood into your hearts and remind you of our true maker in Heaven. Our God is good, our God is great and there is nothing I would rather do right now than sing praises to His name.
Romans 6:14 "For sin shall no longer be your master, because you are not under the law, but under grace."
anthem-lights

4999 views

2019-01-10T16:05:00

source: Anthem Lights The men of Anthem Lights return with a medley of classic worship songs. 'King Of My Heart' and 'Holy Spirit' are two of the most iconic songs in Christian music. These worship songs have touched hearts all across the world and now they are arranged together for one beautiful performance.

'Let the king of my heart
Be the mountain where I run
The fountain I drink from
He is my song'

These two songs go together perfectly as the 4 voices of Anthem Lights belt out these powerful words. God is truly the King of all kings and He is greater than we could ever imagine. When we hand ourselves over to Him, we allow our hearts to be transformed. His grace is such a beautiful blessing and these lyrics remind us to give thanks.

'Holy Spirit, You are welcome here
Come flood this place and fill the atmosphere
Your glory, God, is what our hearts long for
To be overcome by Your presence, Lord'

It is time to use these words to share His message with others. God created each and every one of us and we should hold strong to His word and truths. Let these amazing words flood into your hearts and remind you of our true maker in Heaven. Our God is good, our God is great and there is nothing I would rather do right now than sing praises to His name.

Romans 6:14 "For sin shall no longer be your master, because you are not under the law, but under grace."
Today's Devotional
A Prayer for When Life Doesn't Turn Out the Way You Expect - Your Daily Prayer - June 18
Top Artists