'Mary Did You Know' From The Singing Contractors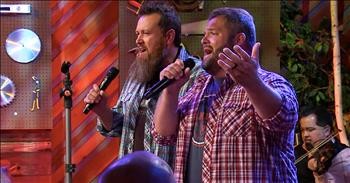 There's no doubt that 'Mary Did You Know' is one of the most popular modern Christmas songs. Every single year, we hear this powerful song performed on the radio and at church.

'Mary did you know that your baby boy will give sight to a blind man?
Mary did you know that your baby boy will calm a storm with his hand?
Did you know that your baby boy has walked where angels trod?
When you kiss your little baby, you kiss the face of God'
Countless artists have put their own unique spin on the Christmas tune, but today we're all in for a real treat. The Singing Contractors are a talented duo comprised of two actual contractors. The pair went viral after they posted videos of themselves taking a break on job sites and singing to the Lord. Now, the two men are in the Gaither studio to perform a special rendition of 'Mary Did You Know.'
'The blind will see, the deaf will hear, the dead will live again
The lame will leap, the dumb will speak, the praises of the lamb'
This classic Christmas song and other gospel favorites can be found on The Singing Contractor's new album 'Working On A Building: Hymns And Gospel Classics.' These men have definitely come a long way from singing on construction sites and it's so amazing to hear them use their talents to give praise to our Lord.
John 1:14 "The Word became flesh and made his dwelling among us. We have seen his glory, the glory of the one and only Son, who came from the Father, full of grace and truth."
godtube-christmas

23684 views

2018-12-20T09:35:25

source: GaitherVEVO There's no doubt that 'Mary Did You Know' is one of the most popular modern Christmas songs. Every single year, we hear this powerful song performed on the radio and at church.

'Mary did you know that your baby boy will give sight to a blind man?
Mary did you know that your baby boy will calm a storm with his hand?
Did you know that your baby boy has walked where angels trod?
When you kiss your little baby, you kiss the face of God'

Countless artists have put their own unique spin on the Christmas tune, but today we're all in for a real treat. The Singing Contractors are a talented duo comprised of two actual contractors. The pair went viral after they posted videos of themselves taking a break on job sites and singing to the Lord. Now, the two men are in the Gaither studio to perform a special rendition of 'Mary Did You Know.'

'The blind will see, the deaf will hear, the dead will live again
The lame will leap, the dumb will speak, the praises of the lamb'

This classic Christmas song and other gospel favorites can be found on The Singing Contractor's new album 'Working On A Building: Hymns And Gospel Classics.' These men have definitely come a long way from singing on construction sites and it's so amazing to hear them use their talents to give praise to our Lord.

John 1:14 "The Word became flesh and made his dwelling among us. We have seen his glory, the glory of the one and only Son, who came from the Father, full of grace and truth."
Today's Devotional
A Prayer for Wonder - Your Daily Prayer - January 25
Top Artists