'Deeper' - Hillsong UNITED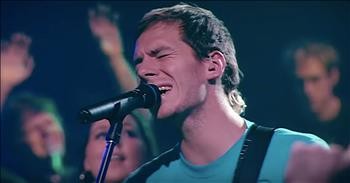 Hillsong UNITED is an award-winning Christian group from Australia. With powerful songs such as 'Oceans (Where Feet May Fail)' and 'So Will I (100 Billion X)' they have become one of the top Christian groups of the modern era. Today, we're looking back at one of their songs that touched hearts all over the world.

'Jesus, hold me into Your heart
Into Your heart
Lord my soul delights
And I know You hear my prayer
Take me deeper Lord'
You can find 'Deeper' on Hillsong UNITED's 2005 album 'Look To You.' This is just one of the many songs that this group uses to lead others in worship. These amazing lyrics are such a beautiful reminder to always find help and comfort in the Lord. When we invest in our relationship with Him, it truly becomes a deep and meaningful connection.
'Now Your light will shine always
By Your Word Lord Your promise secure
And my soul will live always
Take me deeper Lord'
The Lord will always stand with us and He hears each and every one of our prayers. We owe everything that we have to God and He loves us despite all of our sins. It is such an incredible gift to know that we have everlasting life in Heaven with our Lord. This song from Hillsong UNITED is exactly what my soul needed to hear today.
Jeremiah 29:11 "For I know the plans I have for you," declares the LORD, "plans to prosper you and not to harm you, plans to give you hope and a future."
hillsong-united

6627 views

2019-01-03T13:25:00

source: Hillsong UNITED Hillsong UNITED is an award-winning Christian group from Australia. With powerful songs such as 'Oceans (Where Feet May Fail)' and 'So Will I (100 Billion X)' they have become one of the top Christian groups of the modern era. Today, we're looking back at one of their songs that touched hearts all over the world.

'Jesus, hold me into Your heart
Into Your heart
Lord my soul delights
And I know You hear my prayer
Take me deeper Lord'

You can find 'Deeper' on Hillsong UNITED's 2005 album 'Look To You.' This is just one of the many songs that this group uses to lead others in worship. These amazing lyrics are such a beautiful reminder to always find help and comfort in the Lord. When we invest in our relationship with Him, it truly becomes a deep and meaningful connection.

'Now Your light will shine always
By Your Word Lord Your promise secure
And my soul will live always
Take me deeper Lord'

The Lord will always stand with us and He hears each and every one of our prayers. We owe everything that we have to God and He loves us despite all of our sins. It is such an incredible gift to know that we have everlasting life in Heaven with our Lord. This song from Hillsong UNITED is exactly what my soul needed to hear today.

Jeremiah 29:11 "For I know the plans I have for you," declares the LORD, "plans to prosper you and not to harm you, plans to give you hope and a future."
Today's Devotional
A Prayer for When You Don't Feel Like Praising God - Your Daily Prayer - May 25
Top Artists