'Through It All' - Hymn From Trent Smith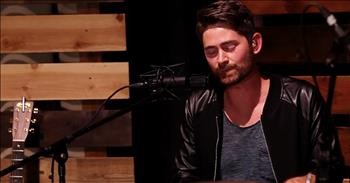 There's nothing like a beautiful hymn to truly fill your spirit for the Lord. God forever reigns and we worship Him and give thanks each and every day. With our hands held high, we will praise God.

That's exactly what you will want to do after hearing the amazing words of 'Through It All' from Trent Smith. The Lord is truly worthy of all the thanks and blessings that we can give. He gave us life and when He sent His only Son to Earth to die for us on the cross. All of our sins were forgiven and now, we're free of our chains and can live out our days in Heaven above.
What a wonderful blessing that is indeed! This song is the perfect way to give praise to His name and I'm going to be shouting these words from the rooftops. Who else is with me?
From songwriter and worship artist Trent Smith, in partnership with Twin Lakes Worship and Risen Music Publishing. CCLI# 7071069
www.twinlakesworship.com
Sheet music available at www.praisecharts.com
Embed

trentsmithmusic

8237 views

2018-05-07T15:45:00

There's nothing like a beautiful hymn to truly fill your spirit for the Lord. God forever reigns and we worship Him and give thanks each and every day. With our hands held high, we will praise God.

That's exactly what you will want to do after hearing the amazing words of 'Through It All' from Trent Smith. The Lord is truly worthy of all the thanks and blessings that we can give. He gave us life and when He sent His only Son to Earth to die for us on the cross. All of our sins were forgiven and now, we're free of our chains and can live out our days in Heaven above.

What a wonderful blessing that is indeed! This song is the perfect way to give praise to His name and I'm going to be shouting these words from the rooftops. Who else is with me?


From songwriter and worship artist Trent Smith, in partnership with Twin Lakes Worship and Risen Music Publishing. CCLI# 7071069
www.twinlakesworship.com
Sheet music available at www.praisecharts.com

Today's Devotional
A Prayer for Strength and Encouragement - Your Daily Prayer - March 19
Top Artists