'What A Friend' Chris McClarney Acoustic Performance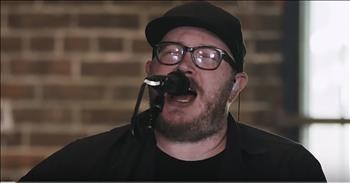 Christian artist Chris McClarney performs an acoustic rendition of 'What A Friend.' These powerful words remind us that we can always find comfort in the arms of the Lord.

"What a friend I've found in You, Jesus
What a friend I've found in You
When no one else could keep their promise
I can always count on You"
Singer-songwriter Chris McClarney grew up in the church. His father was even a youth minister, so worship music has always been a staple in Chris' life. Nowadays, you can find this worship leader writing and recording beautiful tracks that give praise to God's Name.
Today, he's at the famous New Song Café for a special performance of his single, 'What A Friend.' These words truly showcase the many blessings that God has given each and every one of us.
"You've been my Shelter, You've been my Strength
You've been my Provider again and again
You've been my Redeemer and I can't comprehend
How the God of creation would call me His friend"
John 15:12-15 ""This is my commandment, that you love one another as I have loved you. Greater love has no one than this, that someone lay down his life for his friends. You are my friends if you do what I command you. No longer do I call you servants, for the servant does not know what his master is doing; but I have called you friends, for all that I have heard from my Father I have made known to you."
GodTube-Music

389 views

2019-11-08T15:47:35

source: Worship Together Christian artist Chris McClarney performs an acoustic rendition of 'What A Friend.' These powerful words remind us that we can always find comfort in the arms of the Lord.

"What a friend I've found in You, Jesus
What a friend I've found in You
When no one else could keep their promise
I can always count on You"

Singer-songwriter Chris McClarney grew up in the church. His father was even a youth minister, so worship music has always been a staple in Chris' life. Nowadays, you can find this worship leader writing and recording beautiful tracks that give praise to God's Name.

Today, he's at the famous New Song Café for a special performance of his single, 'What A Friend.' These words truly showcase the many blessings that God has given each and every one of us.

"You've been my Shelter, You've been my Strength
You've been my Provider again and again
You've been my Redeemer and I can't comprehend
How the God of creation would call me His friend"

John 15:12-15 ""This is my commandment, that you love one another as I have loved you. Greater love has no one than this, that someone lay down his life for his friends. You are my friends if you do what I command you. No longer do I call you servants, for the servant does not know what his master is doing; but I have called you friends, for all that I have heard from my Father I have made known to you."

Today's Devotional
A Prayer to Overcome Evil - Your Daily Prayer - February 20
Top Artists