Christian Couple Caleb And Kelsey Sing 'Raise A Hallelujah/Hallelujah' Medley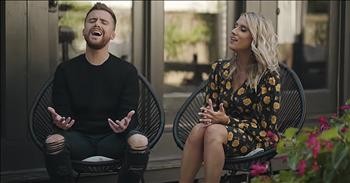 Husband and wife Caleb and Kelsey Grimm perform a beautiful medley of 'Raise A Hallelujah' and 'Hallelujah.' These two worship songs remind us all that there is power and glory in the Name of Jesus.

"I raise a hallelujah, in the presence of my enemies
I raise a hallelujah, louder than the unbelief
I raise a hallelujah, my weapon is a melody
I raise a hallelujah, heaven comes to fight for me"
This married couple are known better by their stage name of Caleb + Kelsey. Over the years, they've used their God-given talents to sing praises to His Name.
Their beautiful covers and original songs serve as a reminder that we are loved by the One True King. Just listen as they take two powerful Christian songs and blend them together for an incredible medley.
"I'm gonna sing, in the middle of the storm
Louder and louder, you're gonna hear my praises roar
Up from the ashes, hope will arise
Death is defeated, the King is alive!"
Raise your voices in praise for our Lord and Savior in Heaven above. What a blessing it is to sing out His beautiful Name!
Psalm 113:1-4 "Praise the LORD! Praise, O servants of the LORD, praise the name of the LORD! 2 Blessed be the name of the LORD from this time forth and forevermore! 3 From the rising of the sun to its setting, the name of the LORD is to be praised! 4 The LORD is high above all nations, and his glory above the heavens!"
anthem-lights

4082 views

2019-11-04T15:05:40

source: Anthem Lights Husband and wife Caleb and Kelsey Grimm perform a beautiful medley of 'Raise A Hallelujah' and 'Hallelujah.' These two worship songs remind us all that there is power and glory in the Name of Jesus.

"I raise a hallelujah, in the presence of my enemies
I raise a hallelujah, louder than the unbelief
I raise a hallelujah, my weapon is a melody
I raise a hallelujah, heaven comes to fight for me"

This married couple are known better by their stage name of Caleb + Kelsey. Over the years, they've used their God-given talents to sing praises to His Name.

Their beautiful covers and original songs serve as a reminder that we are loved by the One True King. Just listen as they take two powerful Christian songs and blend them together for an incredible medley.

"I'm gonna sing, in the middle of the storm
Louder and louder, you're gonna hear my praises roar
Up from the ashes, hope will arise
Death is defeated, the King is alive!"

Raise your voices in praise for our Lord and Savior in Heaven above. What a blessing it is to sing out His beautiful Name!

Psalm 113:1-4 "Praise the LORD! Praise, O servants of the LORD, praise the name of the LORD! 2 Blessed be the name of the LORD from this time forth and forevermore! 3 From the rising of the sun to its setting, the name of the LORD is to be praised! 4 The LORD is high above all nations, and his glory above the heavens!"

Today's Devotional
A Prayer for a Strong Marriage - Your Daily Prayer - August 9
Top Artists