'Me And Jesus' Voice Winner Craig Wayne Boyd And Jason Crabb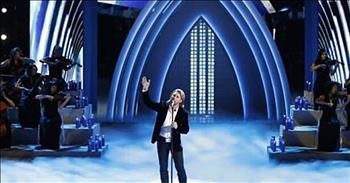 Season 7 winner of The Voice, Craig Wayne Boyd releases 'Me And Jesus' featuring Jason Crabb.

We were first introduced to Craig after his 2014 blind audition of 'The Whiskey Ain't Workin'' by Travis Tritt. Two coaches turned around for this country singer and he eventually became a part of Team Blake.
Week after week, this incredible vocalist won over the hearts of America. And, his performance of the classic hymn 'The Old Rugged Cross' broke into the iTunes Top 10.
Craig went on to be crowded the victor of the entire competition. Now, he is set to release his latest album and it includes a brand new gospel track called 'Me And Jesus.'
This touching song features popular the Christian singer, Jason Crabb. Jason was the lead singer of The Crabb Family band before they retired in 2007.
Now, Jason is a Grammy award-winning solo artist leading the way with songs such as 'Love Is Stronger' and 'The Song Lives On.' Together, Craig and Jason are combining their voices for a performance that truly glorifies His Name.
"I've danced with the Devil
Thought he was my friend
But he's let me down
Time and time again.
And I can't explain the way that I am.
I know I've been washing in the blood of the Lamb."
These incredible words remind us all that despite our imperfections, we are still loved by our Father in Heaven.
"I know that He loves me
And that is all that counts
You see, me and Jesus
are still working things out."
jason-crabb

6922 views

2019-11-06T13:11:54

source: Jason Crabb Season 7 winner of The Voice, Craig Wayne Boyd releases 'Me And Jesus' featuring Jason Crabb.

We were first introduced to Craig after his 2014 blind audition of 'The Whiskey Ain't Workin'' by Travis Tritt. Two coaches turned around for this country singer and he eventually became a part of Team Blake.

Week after week, this incredible vocalist won over the hearts of America. And, his performance of the classic hymn 'The Old Rugged Cross' broke into the iTunes Top 10.

Craig went on to be crowded the victor of the entire competition. Now, he is set to release his latest album and it includes a brand new gospel track called 'Me And Jesus.'

This touching song features popular the Christian singer, Jason Crabb. Jason was the lead singer of The Crabb Family band before they retired in 2007.

Now, Jason is a Grammy award-winning solo artist leading the way with songs such as 'Love Is Stronger' and 'The Song Lives On.' Together, Craig and Jason are combining their voices for a performance that truly glorifies His Name.

"I've danced with the Devil
Thought he was my friend
But he's let me down
Time and time again.
And I can't explain the way that I am.
I know I've been washing in the blood of the Lamb."

These incredible words remind us all that despite our imperfections, we are still loved by our Father in Heaven.

"I know that He loves me
And that is all that counts
You see, me and Jesus
are still working things out."

Today's Devotional
A Christmas Prayer for Your Children - Your Daily Prayer - December 5
Top Artists