'Transfiguration' By Hillsong Worship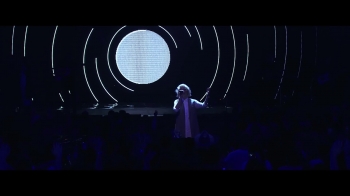 Award-winning Christian group Hillsong Worship leads praise to our Lord with this special performance of 'Transfiguration.' The words of this song are the perfect reminder that when we hand our hearts over to God, He is changing us from the inside out.

"Holy is the Lord revealed before my eyes
And my burning heart can scarcely take it in
As I behold your beauty with unworthy eyes
The only song my soul can find to sing
Is Hallelujah, Hallelujah, Hallelujah my King"
Hillsong Worship has been making music since 1983. At first, they only performed at their home church, in Sydney, Australia. But as their music popularity grew, the group decided to share their talents with the world. Their first album was released in 1988 and, since that time, Hillsong has become a name synonymous with Christian worship anthems.
These talented voices have given us hits such as 'Cornerstone' and 'What A Beautiful Name.' Many of their worship tunes are staples in church services all over the globe. Today, they are leading worship with a powerful performance of 'Transfiguration.' Just listen as they sing from their hearts the many wonders of our God.
"Lead my longing heart
To the high ground, to the clear view
And in awe I'll be there
Beholding You"
Romans 12:2 "Do not be conformed to this world, but be transformed by the renewal of your mind, that by testing you may discern what is the will of God, what is good and acceptable and perfect."
Embed

hillsong-worship

8597 views

2019-07-16T11:00:00

Award-winning Christian group Hillsong Worship leads praise to our Lord with this special performance of 'Transfiguration.' The words of this song are the perfect reminder that when we hand our hearts over to God, He is changing us from the inside out.

"Holy is the Lord revealed before my eyes
And my burning heart can scarcely take it in
As I behold your beauty with unworthy eyes
The only song my soul can find to sing
Is Hallelujah, Hallelujah, Hallelujah my King"

Hillsong Worship has been making music since 1983. At first, they only performed at their home church, in Sydney, Australia. But as their music popularity grew, the group decided to share their talents with the world. Their first album was released in 1988 and, since that time, Hillsong has become a name synonymous with Christian worship anthems.

These talented voices have given us hits such as 'Cornerstone' and 'What A Beautiful Name.' Many of their worship tunes are staples in church services all over the globe. Today, they are leading worship with a powerful performance of 'Transfiguration.' Just listen as they sing from their hearts the many wonders of our God.

"Lead my longing heart
To the high ground, to the clear view
And in awe I'll be there
Beholding You"

Romans 12:2 "Do not be conformed to this world, but be transformed by the renewal of your mind, that by testing you may discern what is the will of God, what is good and acceptable and perfect."
Today's Devotional
A Prayer for a Heavy Heart - Your Daily Prayer - January 27
Top Artists