'Holy Ground' Hillsong UNITED Acoustic Performance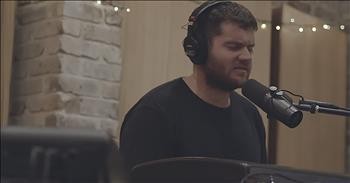 Critically-acclaimed Christian group Hillsong UNITED perform an acoustic rendition of 'Holy Ground.' When we hand out lives over to God, we are entering into a better life. Let these lyrics remind you of the power in His Name.

"This is holy
This is holy ground
You are holy
You are holy God
This is holy
This is holy ground
You are holy
You are with me now"
Hillsong UNITED originally started as the worship band for the Australian-based Hillsong Church. As their powerful songs and performances started to grow in popularity, they decided to use this opportunity to lead others all over the world in worship.
Today, Hillsong UNITED is arguably one of the most popular Christian groups of the modern era. Their songs, such as 'Oceans (Where Feet May Fail' and 'Touch The Sky' have become staples in church services.
This group is inspiring a whole new generation in their walk with the Lord. Now, they are sharing an acoustic performance of their single 'Holy Ground' and it's full of praise for His name.
After the song, we also hear the powerful story behind the tune and how to play it at home, on our own. Time and time again, Hillsong UNITED shows us the glory of God through their worship music and it's such a blessed way to give praise to our Lord.
1 Thessalonians 5:23 "Now may the God of peace himself sanctify you completely, and may your whole spirit and soul and body be kept blameless at the coming of our Lord Jesus Christ."
hillsong-united

3357 views

2019-06-28T14:24:46

source: Hillsong United Critically-acclaimed Christian group Hillsong UNITED perform an acoustic rendition of 'Holy Ground.' When we hand out lives over to God, we are entering into a better life. Let these lyrics remind you of the power in His Name.

"This is holy
This is holy ground
You are holy
You are holy God
This is holy
This is holy ground
You are holy
You are with me now"

Hillsong UNITED originally started as the worship band for the Australian-based Hillsong Church. As their powerful songs and performances started to grow in popularity, they decided to use this opportunity to lead others all over the world in worship.

Today, Hillsong UNITED is arguably one of the most popular Christian groups of the modern era. Their songs, such as 'Oceans (Where Feet May Fail' and 'Touch The Sky' have become staples in church services.

This group is inspiring a whole new generation in their walk with the Lord. Now, they are sharing an acoustic performance of their single 'Holy Ground' and it's full of praise for His name.

After the song, we also hear the powerful story behind the tune and how to play it at home, on our own. Time and time again, Hillsong UNITED shows us the glory of God through their worship music and it's such a blessed way to give praise to our Lord.

1 Thessalonians 5:23 "Now may the God of peace himself sanctify you completely, and may your whole spirit and soul and body be kept blameless at the coming of our Lord Jesus Christ."

Today's Devotional
A Prayer for Moms Who Struggle with Their Temper - Your Daily Prayer - February 25
Top Artists