Family Of 6 Siblings Perform 'Oceans (Where Feet May Fail)'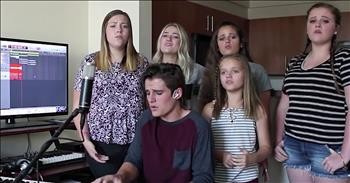 Six musical siblings come together for an incredible performance of 'Oceans (Where Feet May Fail.)'

This particular Christian song has become a sensation across the world. Originally recorded by Hillsong UNITED, one of the top Christian groups of the modern era, 'Oceans (Where Feet May Fail)' is now a staple in worship services all over the globe.
Now, these talented siblings are belting out this Christian anthem and it is beyond beautiful.
"You call me out upon the waters
The great unknown where feet may fail
And there I find You in the mystery
In oceans deep
My faith will stand"
Better Together is a musical ensemble of six siblings. As a group, they have performed numerous hymns and cover songs. Today, they are lending their voices to one of the most popular modern-day Christian songs. These touching words remind us all that there is hope and grace with the Lord.
"And I will call upon Your name
And keep my eyes above the waves
When oceans rise, my soul will rest in Your embrace
For I am Yours and You are mine"
When you are faced with struggles or dark times, always remember that God is by your side each step of the way. He is ready to guide us on the path of righteousness and welcome us into Heaven for a life of eternal bliss.
"I will sing to the Lord all my life; I will sing praise to my God as long as I live" (Psalm 104:33)
GodTube-Music

4340 views

2019-07-10T11:32:38

source: Kenny Holland Six musical siblings come together for an incredible performance of 'Oceans (Where Feet May Fail.)'

This particular Christian song has become a sensation across the world. Originally recorded by Hillsong UNITED, one of the top Christian groups of the modern era, 'Oceans (Where Feet May Fail)' is now a staple in worship services all over the globe.

Now, these talented siblings are belting out this Christian anthem and it is beyond beautiful.

"You call me out upon the waters
The great unknown where feet may fail
And there I find You in the mystery
In oceans deep
My faith will stand"

Better Together is a musical ensemble of six siblings. As a group, they have performed numerous hymns and cover songs. Today, they are lending their voices to one of the most popular modern-day Christian songs. These touching words remind us all that there is hope and grace with the Lord.

"And I will call upon Your name
And keep my eyes above the waves
When oceans rise, my soul will rest in Your embrace
For I am Yours and You are mine"

When you are faced with struggles or dark times, always remember that God is by your side each step of the way. He is ready to guide us on the path of righteousness and welcome us into Heaven for a life of eternal bliss.

"I will sing to the Lord all my life; I will sing praise to my God as long as I live" (Psalm 104:33)

Today's Devotional
A Prayer for a Strong Marriage - Your Daily Prayer - August 9
Top Artists