5 Sisters Sing Lauren Daigle's 'You Say'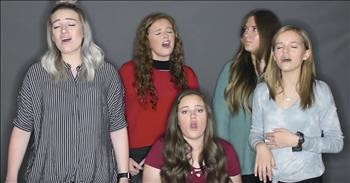 The five sisters of Better Together perform a beautiful rendition of the Lauren Daigle hit, 'You Say.'

This 2018 worship song became a smash hit in both the Christian and secular music scene. It reached the top of the Christian Billboard charts and led to a multitude of covers and interpretations.
The powerful words remind us that God provides us with strength and hope when times may seem difficult.
"You say I am loved when I can't feel a thing
You say I am strong when I think I am weak
And You say I am held when I am falling short
And when I don't belong, oh You say I am Yours
And I believe, oh I believe
What You say of me
Oh, I believe"
Better Together is a musical ensemble of five siblings. As a group, they have performed numerous hymns and cover songs. Many of their videos have been shared across social media, including this Lauren Daigle cover.
Just listen as the sisters belt out the lyrics of 'You Say' with a piano accompaniment. What a beautiful reminder that we are so loved by our God in Heaven.
Romans 8:37-39 "37 No, in all these things we are more than conquerors through him who loved us. 38 For I am convinced that neither death nor life, neither angels nor demons, neither the present nor the future, nor any powers, 39neither height nor depth, nor anything else in all creation, will be able to separate us from the love of God that is in Christ Jesus our Lord."
GodTube-Music

3426 views

2019-07-08T15:05:40

source: Better Together The five sisters of Better Together perform a beautiful rendition of the Lauren Daigle hit, 'You Say.'

This 2018 worship song became a smash hit in both the Christian and secular music scene. It reached the top of the Christian Billboard charts and led to a multitude of covers and interpretations.

The powerful words remind us that God provides us with strength and hope when times may seem difficult.

"You say I am loved when I can't feel a thing
You say I am strong when I think I am weak
And You say I am held when I am falling short
And when I don't belong, oh You say I am Yours
And I believe, oh I believe
What You say of me
Oh, I believe"

Better Together is a musical ensemble of five siblings. As a group, they have performed numerous hymns and cover songs. Many of their videos have been shared across social media, including this Lauren Daigle cover.

Just listen as the sisters belt out the lyrics of 'You Say' with a piano accompaniment. What a beautiful reminder that we are so loved by our God in Heaven.

Romans 8:37-39 "37 No, in all these things we are more than conquerors through him who loved us. 38 For I am convinced that neither death nor life, neither angels nor demons, neither the present nor the future, nor any powers, 39neither height nor depth, nor anything else in all creation, will be able to separate us from the love of God that is in Christ Jesus our Lord."

Today's Devotional
A Prayer for Perspective - Your Daily Prayer - October 18
Top Artists