Toddler Overcome With Excitement When Daddy Picks Him Up From Daycare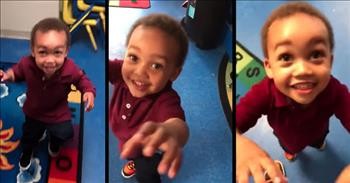 This adorable toddler is overcome with excitement each day when his daddy picks him up from daycare. What a cute sight to see!

The young boy's enthusiasm never wanes, and he runs to his dad every time he sees him walk through the door. Jumping up and down each time and wrapping his arms around his daddy's leg, it is clear to see just how much the toddler loves his father and looks forward to seeing him at the end of each day.
It is a beautiful thing to see this love between the father and son, and this video can be a reminder to us all. When it comes to our Heavenly Father, we should have the same excitement to meet with Him each day as this little boy has when he sees his dad.
When we seek the Lord, we are seeking His presence. Many times in scripture, we are encouraged to seek the face of God. When we spend time with Him, we get to know Him more deeply and there is a deep joy that comes with that.
"You will seek me and find me when you seek me with all your heart." – Jeremiah 29:13
"Those who know your name trust in you, for you, Lord, have never forsaken those who seek you." – Psalm 9:10
"But if from there you seek the Lord your God, you will find him if you seek him with all your heart and with all your soul. When you are in distress and all these things have happened to you, then in later days you will return to the Lord your God and obey him. For the Lord your God is a merciful God; he will not abandon or destroy you or forget the covenant with your ancestors, which he confirmed to them by oath." – Deuteronomy 4:29-31
What a gift it is that the Lord is always near to us and we have the privilege of seeking His face each day.
"The Lord bless you and keep you; the Lord make his face shine on you and be gracious to you; the Lord turn his face toward you and give you peace." – Numbers 6:24-26
godtube-inspiration

1420 views

2019-07-09T10:43:05

source: GoatWow This adorable toddler is overcome with excitement each day when his daddy picks him up from daycare. What a cute sight to see!

The young boy's enthusiasm never wanes, and he runs to his dad every time he sees him walk through the door. Jumping up and down each time and wrapping his arms around his daddy's leg, it is clear to see just how much the toddler loves his father and looks forward to seeing him at the end of each day.

It is a beautiful thing to see this love between the father and son, and this video can be a reminder to us all. When it comes to our Heavenly Father, we should have the same excitement to meet with Him each day as this little boy has when he sees his dad.

When we seek the Lord, we are seeking His presence. Many times in scripture, we are encouraged to seek the face of God. When we spend time with Him, we get to know Him more deeply and there is a deep joy that comes with that.

"You will seek me and find me when you seek me with all your heart." – Jeremiah 29:13

"Those who know your name trust in you, for you, Lord, have never forsaken those who seek you." – Psalm 9:10

"But if from there you seek the Lord your God, you will find him if you seek him with all your heart and with all your soul. When you are in distress and all these things have happened to you, then in later days you will return to the Lord your God and obey him. For the Lord your God is a merciful God; he will not abandon or destroy you or forget the covenant with your ancestors, which he confirmed to them by oath." – Deuteronomy 4:29-31

What a gift it is that the Lord is always near to us and we have the privilege of seeking His face each day.

"The Lord bless you and keep you; the Lord make his face shine on you and be gracious to you; the Lord turn his face toward you and give you peace." – Numbers 6:24-26

Today's Devotional
A Prayer for Perspective - Your Daily Prayer - October 18
Top Artists