'Jesus Is Everywhere' Gaither Vocal Band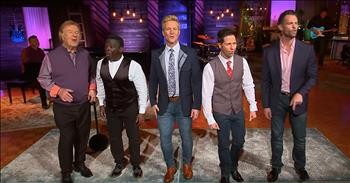 The talented members of The Gaither Vocal Band share a live performance of 'Jesus Is Everywhere.' This powerful song reminds us that we will always be safe in the arms of the Lord.

"Jesus is in the water
Jesus is in the wine
Jesus is standing next to us
In the noisy Starbucks line
Jesus is in Manhattan
Jesus is in St. Claire
He's waiting around the corner
Jesus is everywhere"
This popular all-male southern ensemble has been sharing their gospel music for decades. The band name comes from the founder and leader, Bill Gaither, who has written countless hymns and worship favorites.
Since 1981, this group has performed hundreds of beloved worship tunes and beautiful original songs all over the world. Now, they are using their God-given talents to share His message of love and grace.
"In the darkest hour of nighttime
In the dark night of the soul
In the balmy heat of summer
In the bitter winter cold
In the halls of every mansion
In apartments where you sleep
You've never gone too far
And you're never in too deep"
Psalm 139: 7-12 "Where shall I go from your Spirit?Or where shall I flee from your presence? 8 If I ascend to heaven, you are there! If I make my bed in Sheol, you are there! 9 If I take the wings of the morning and dwell in the uttermost parts of the sea, 10 even there your hand shall lead me, and your right hand shall hold me. 11 If I say, "Surely the darkness shall cover me, and the light about me be night," 12 even the darkness is not dark to you; the night is bright as the day, for darkness is as light with you."
gaither-vocal-band

2881 views

2019-10-14T16:01:00

source: Gaither Vocal Band The talented members of The Gaither Vocal Band share a live performance of 'Jesus Is Everywhere.' This powerful song reminds us that we will always be safe in the arms of the Lord.

"Jesus is in the water
Jesus is in the wine
Jesus is standing next to us
In the noisy Starbucks line
Jesus is in Manhattan
Jesus is in St. Claire
He's waiting around the corner
Jesus is everywhere"

This popular all-male southern ensemble has been sharing their gospel music for decades. The band name comes from the founder and leader, Bill Gaither, who has written countless hymns and worship favorites.

Since 1981, this group has performed hundreds of beloved worship tunes and beautiful original songs all over the world. Now, they are using their God-given talents to share His message of love and grace.

"In the darkest hour of nighttime
In the dark night of the soul
In the balmy heat of summer
In the bitter winter cold
In the halls of every mansion
In apartments where you sleep
You've never gone too far
And you're never in too deep"

Psalm 139: 7-12 "Where shall I go from your Spirit?Or where shall I flee from your presence? 8 If I ascend to heaven, you are there! If I make my bed in Sheol, you are there! 9 If I take the wings of the morning and dwell in the uttermost parts of the sea, 10 even there your hand shall lead me, and your right hand shall hold me. 11 If I say, "Surely the darkness shall cover me, and the light about me be night," 12 even the darkness is not dark to you; the night is bright as the day, for darkness is as light with you."

Today's Devotional
A Prayer to Keep it Together When Your Life is Falling Apart - Your Daily Prayer - November 15
Top Artists