'La Luz' Crowder Live Performance Featuring Social Club Misfits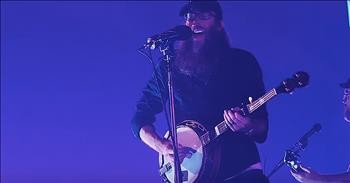 Award-winning Christian artist Crowder joins with the Social Club Misfits for a live performance of their single 'La Luz.'

This incredible song is featured on Crowder's latest album, 'I Know A Ghost.' The words remind us all that when we put our trust in the Lord, He shines a light on us that is bigger than anything we can ever imagine.
"Brighter than sunshine
La Luz
I'm burning like wildfire
La Luz
Breaking through the darkness
La Luz
We got the Light of the World in us"
Crowder is known for worship anthems such as "How He Loves" and "O Praise Him". His songs for the Lord light a fire in our souls and they are continuously featured in church services across the world. Social Club Misfits is a Christian hip-hop duo that hails from Florida. Together, these talented vocalists are singing praise to God's Name with 'La Luz.' Just listen as they belt out these powerful lyrics.
"Break the bread, pour the wine
The Father's arms are open wide
Break the bread, pour the wine
Ain't nobody gonna sleep tonight, come on"
'La Luz' is Spanish for 'the light.' And that is what God is to us. He is the guiding light that will always be there to lead us on the path to righteousness.
1 John 1:7 "But if we walk in the light, as he is in the light, we have fellowship with one another, and the blood of Jesus his Son cleanses us from all sin."
crowder

2101 views

2019-10-03T12:45:00

Award-winning Christian artist Crowder joins with the Social Club Misfits for a live performance of their single 'La Luz.'

This incredible song is featured on Crowder's latest album, 'I Know A Ghost.' The words remind us all that when we put our trust in the Lord, He shines a light on us that is bigger than anything we can ever imagine.

"Brighter than sunshine
La Luz
I'm burning like wildfire
La Luz
Breaking through the darkness
La Luz
We got the Light of the World in us"

Crowder is known for worship anthems such as "How He Loves" and "O Praise Him". His songs for the Lord light a fire in our souls and they are continuously featured in church services across the world. Social Club Misfits is a Christian hip-hop duo that hails from Florida. Together, these talented vocalists are singing praise to God's Name with 'La Luz.' Just listen as they belt out these powerful lyrics.

"Break the bread, pour the wine
The Father's arms are open wide
Break the bread, pour the wine
Ain't nobody gonna sleep tonight, come on"

'La Luz' is Spanish for 'the light.' And that is what God is to us. He is the guiding light that will always be there to lead us on the path to righteousness.

1 John 1:7 "But if we walk in the light, as he is in the light, we have fellowship with one another, and the blood of Jesus his Son cleanses us from all sin."

Today's Devotional
A Prayer for When the World Makes You Anxious - Your Daily Prayer - March 30
Top Artists